During his good early years (and I would say until 2007), Scott Weiland was a great frontman. His career began with Stone Temple Pilots, which in 1992 released their debut and most popular album: Core.
STP and Weiland's career was full of – among several things – interruptions and conflicts. Below you can find the timeline of Stone Tempe Pilots' history, as well as other projects related to the band.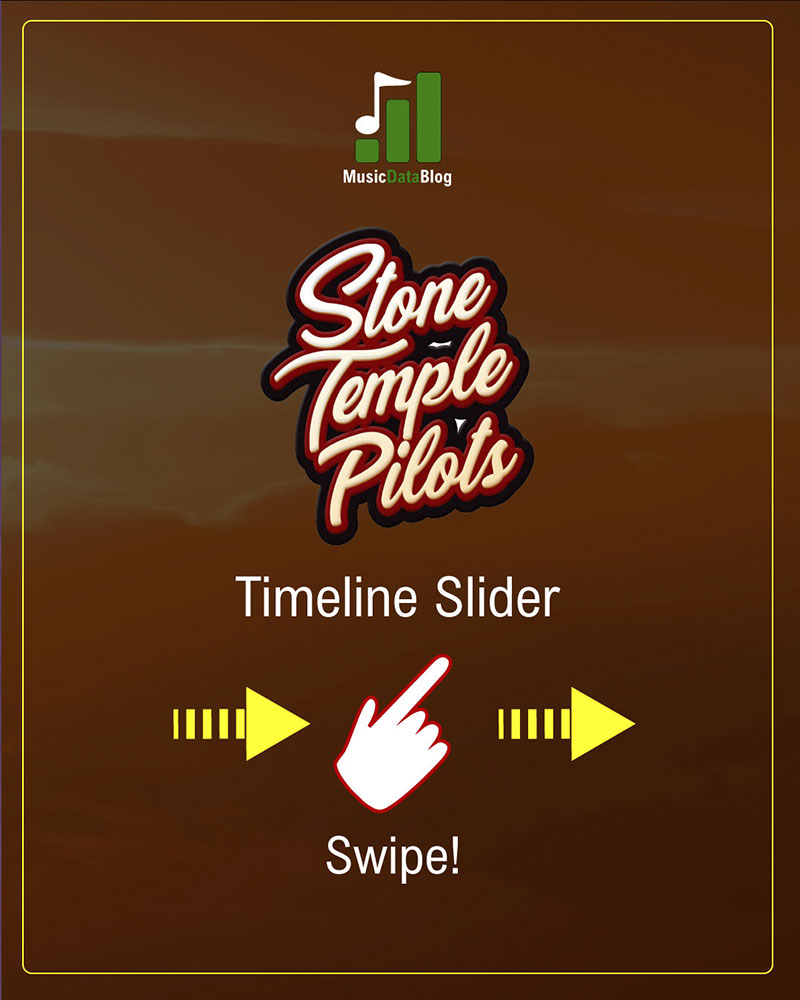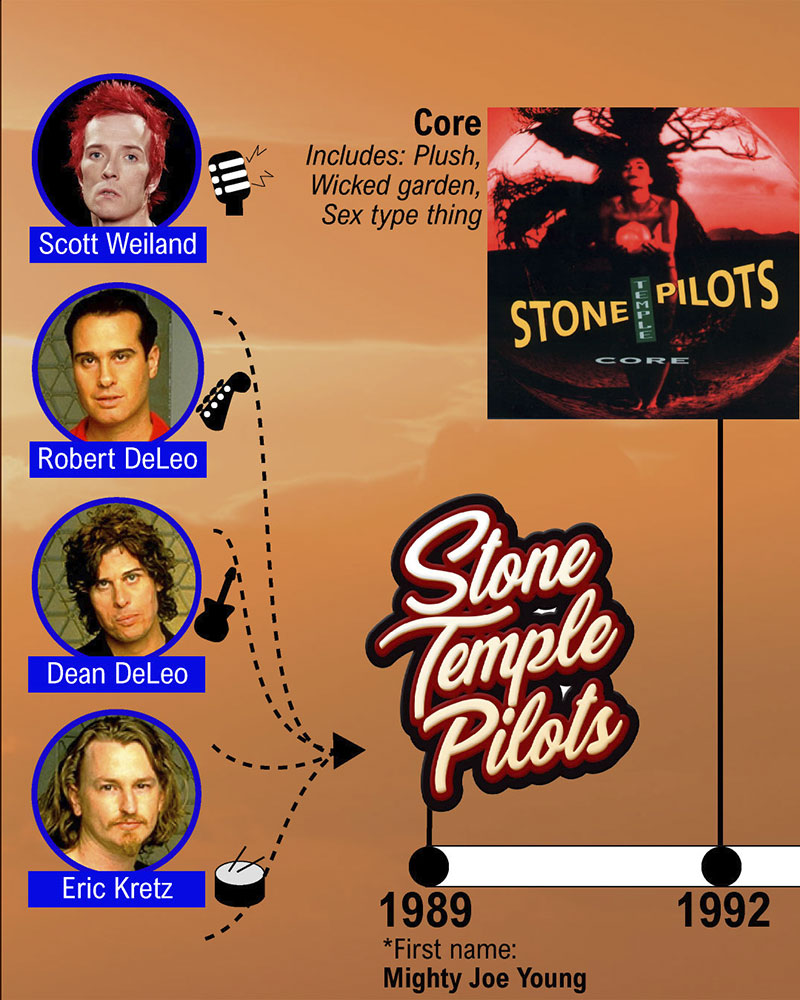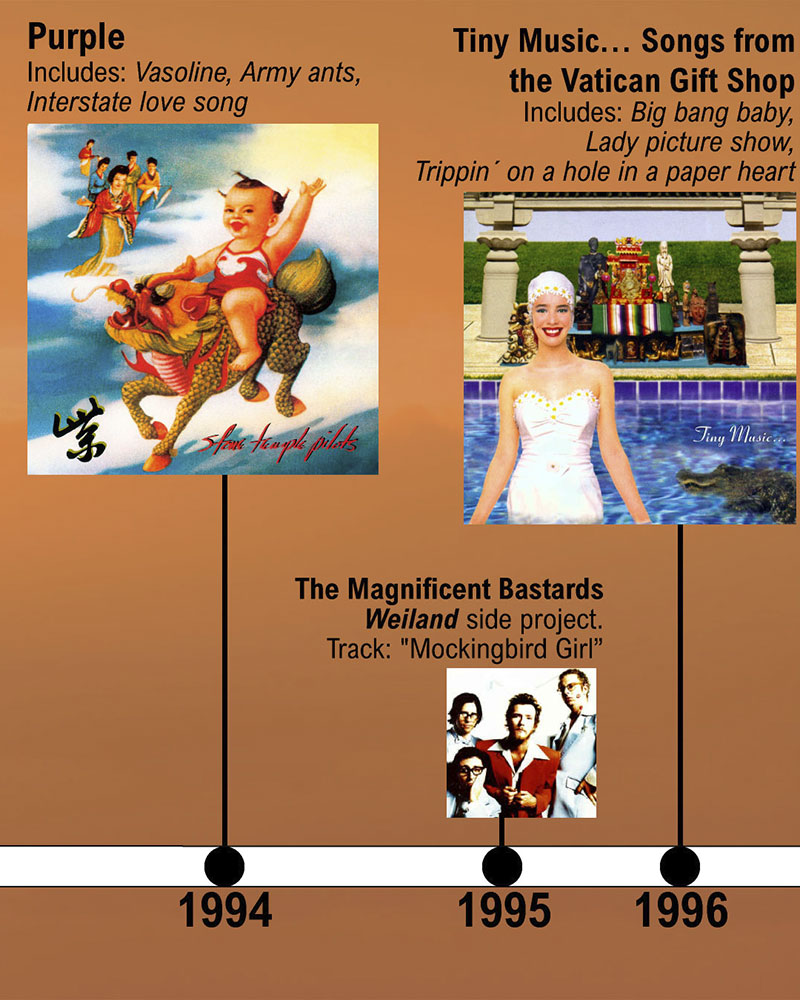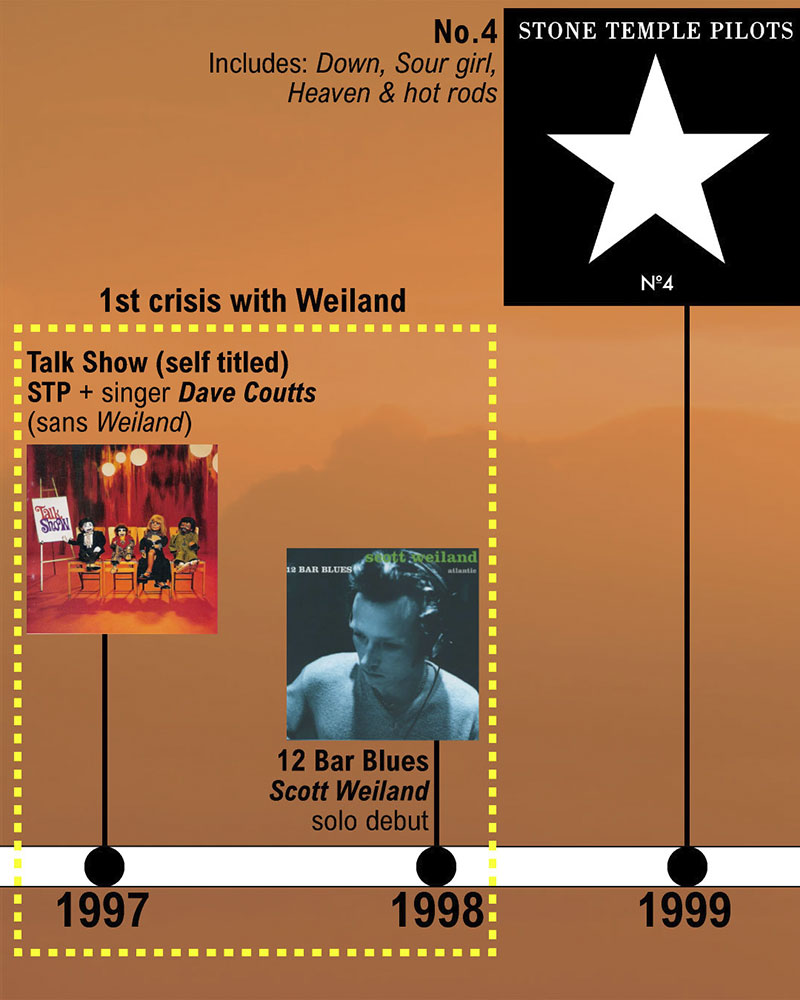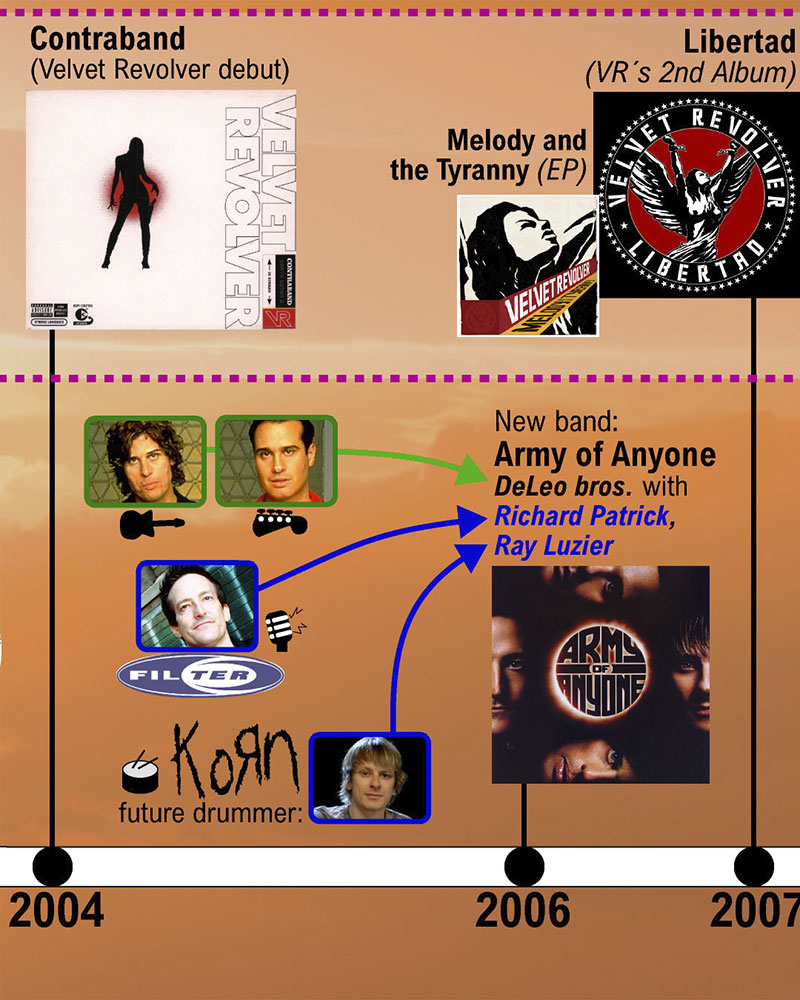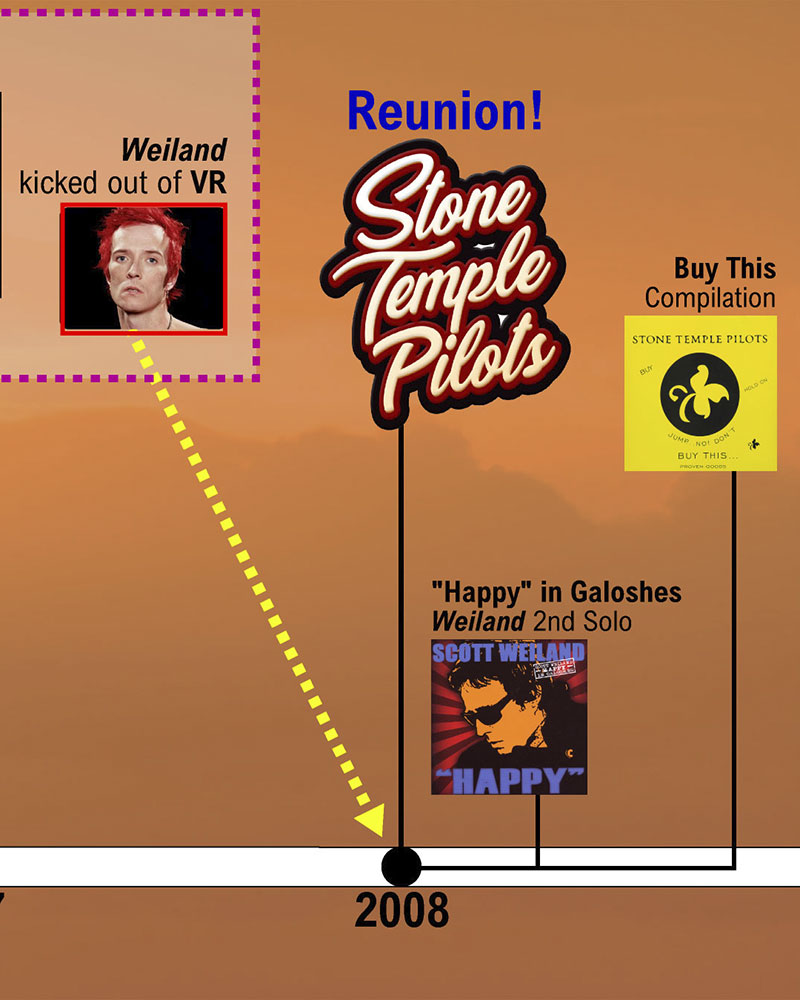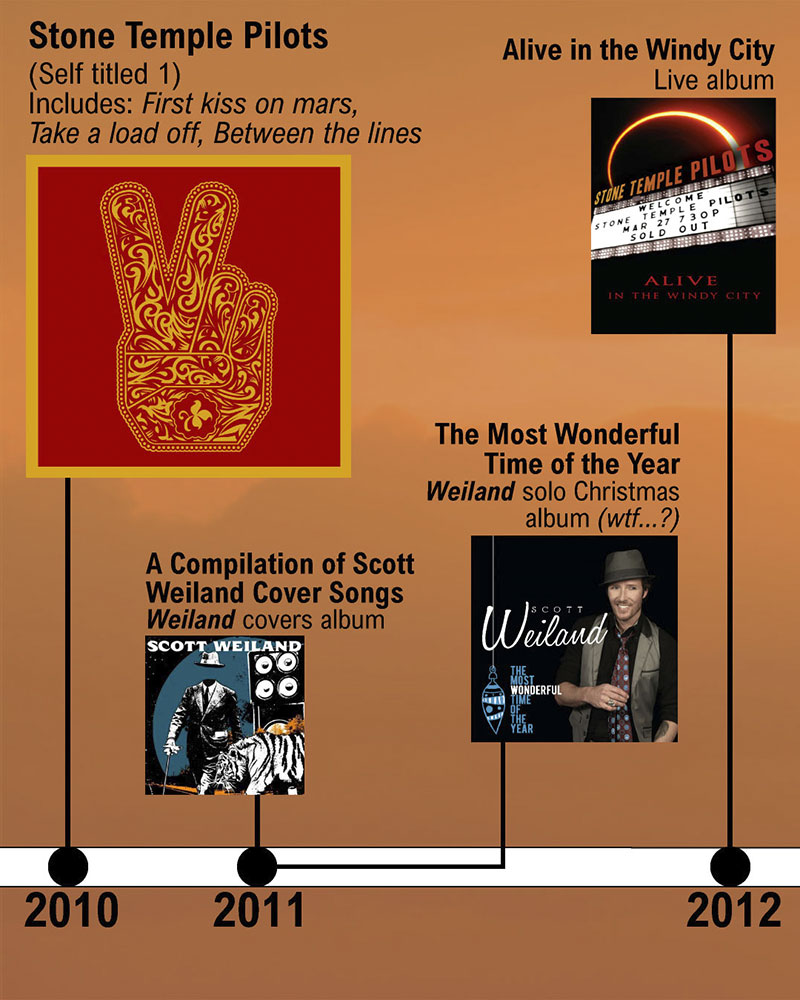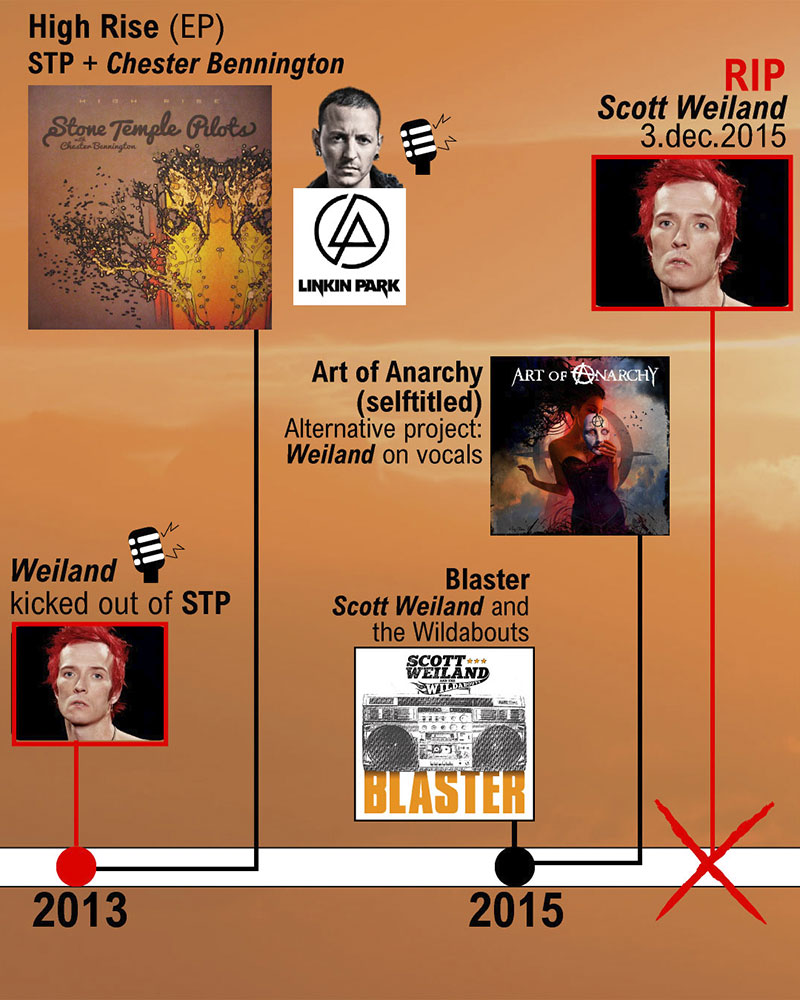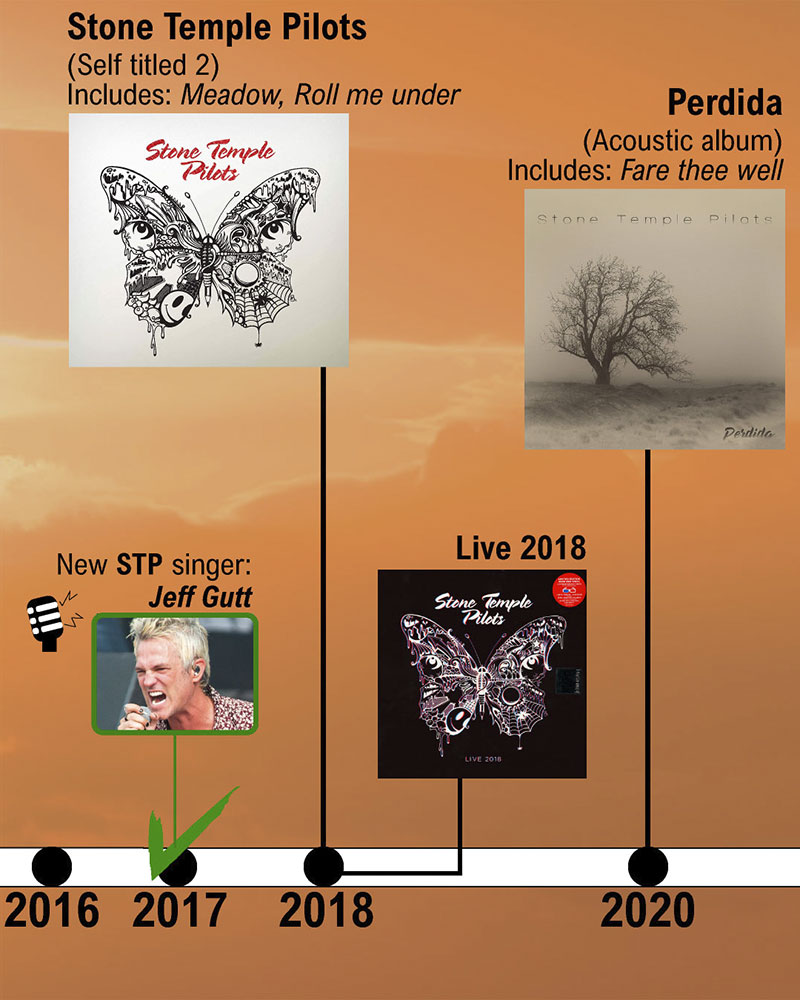 The History of Stone Temple Pilots: A short chronology
Stone Temple Pilots were formed in 1989. They were first called Mighty Joe Young, but as the name was already registered, they took the acronym for STP motor oil company.
1992: They released their acclaimed debut album Core. It features popular singles such as Plush, Creep, and Sex type thing.
1994. STP released Purple, another best-selling album. It includes the singles Interstate love song, Vasoline, and Unglued. During this time, Scott began to have problems with drugs.
1996: Their third album, Tiny Music… Songs from the Vatican Gift Shop, was released. Critics were mixed at first, but today it is regarded as a great album, that featured a psychedelic and 70s sound vibe. It contains hits such as Big Bang Baby, Lady Picture Show, and Trippin' On a Hole in a Paper Heart.
1999: After Stone Temple Pilots took a short break, No.4 was released. This is the band's last record to be considered relevant. It includes well-known songs such as Down, Heaven & hot rods, and Sour girl.
2001: Their fifth album, Shangri-la Dee Da was released. I was not well received either by their fans or the critics.
2002: Stone Temple Pilots officially split.
2008: After six years of inactive, STP reunited. Scott Weiland left behind another successful project he was involved in, Velvet Revolver. Also, bassist Robert Deleo and guitarist Dean Deleo abandoned their project, Army of Anyone, which featured singer Richard Patrick and drummer Ray Luzier.
2010: The band's self-titled album, Stone Temple Pilots, was released. This was their last work with Scott Weiland on vocals. It includes the songs Between the lines, Take a load off, and First kiss on mars.
2012: STP fires Weiland. This starts a legal dispute between the singer and the rest of his former bandmates.
2013: STP released the EP High Rise, featuring Linkin Park's singer Chester Bennington.
2015: On December 3rd, 2015, Scott Weiland died while on tour with his solo band, The Wildabouts. By that time he had released three unsuccessful solo albums.
2018: STP released their second self-titled album. By this time, Jeff Gutt was hired as their new lead vocalist.
2020: STP released Perdida, an acoustic album.
The short trajectory of Velvet Revolver & Scott Weiland
In 2003, as the band Guns n' Roses was under complete control of lead singer Axl Rose, the band's former guitarist Slash decided to form a new band together with former GNR's bassist Duff McKagan and drummer Matt Sorum. At the same time, Stone Temple Pilots had broken up, and Scott Weiland was chosen to be the lead singer of the project.
They named this new band Velvet Revolver and released their acclaimed debut album Contraband in 2005. This album includes hits like Fall to pieces, Slither, and Dirty little Thing.
Their second and final album, Libertad, came out in 2007. The singles released were the songs She Builds Quick Machines, The Last Fight, and Get Out The Door.
After this album, Scott Weiland's problematic behavior had already exhausted the rest of the band. As a result, the lead singer was kicked out of Velvet Revolver. Soon after, Stone Temple Pilots got back together. This STP reunion only lasted two years, with the band releasing just one record, their first self-titled album, Stone Temple Pilots.
Alternative projects to Stone Temple Pilots
Brothers Robert DeLeo (bass) and Dean DeLeo (guitar) tried on several opportunities to form alternative projects different from Stone Temple Pilots. The first of these projects, named Talk Show, featured STP's drummer, Eric Kretz, and singer David Coutts. the band only recorded one self-titled album and was a commercial failure. Talk Show released singles for the songs Everybody Loves My Car and Morning Girl.
In 2006, the DeLeo brothers decided to form another band. The new project, called Army of Anyone, included Filter's lead singer and former Nine Inch Nails member, Richard Patrick, as well as future Korn's drummer, Ray Luzier. Although the band was way more consistent than their previous project, Talk Show, sales were not as well as expected. After a short period, each member went back to their respective projects and Army of Anyone ceased to exist. The tracks Father figure and Goodbye are recommended listens from this project.
On his side, singer Scott Weiland began his solo career as early as in 1998, releasing his debut album 12 bar blues, which was a commercial failure. He recorded two more studio albums: 2008's "Happy" in Galoshes, and 2011's Christmas album, The Most Wonderful Time of the Year.
In 2015 Weiland released the album Blaster, with his backing band The Wildabouts. On December 15 of that same year, the singer died on tour while promoting the album.
Related content