Gigaton, Pearl Jam´s eleventh studio album, comes out seven years after their latest effort, the average Lightning Bolt (2013). In this infographic diagram we can see some of the musicians that influenced the Seattle grunge rockers and also a few artist that are influenced by them.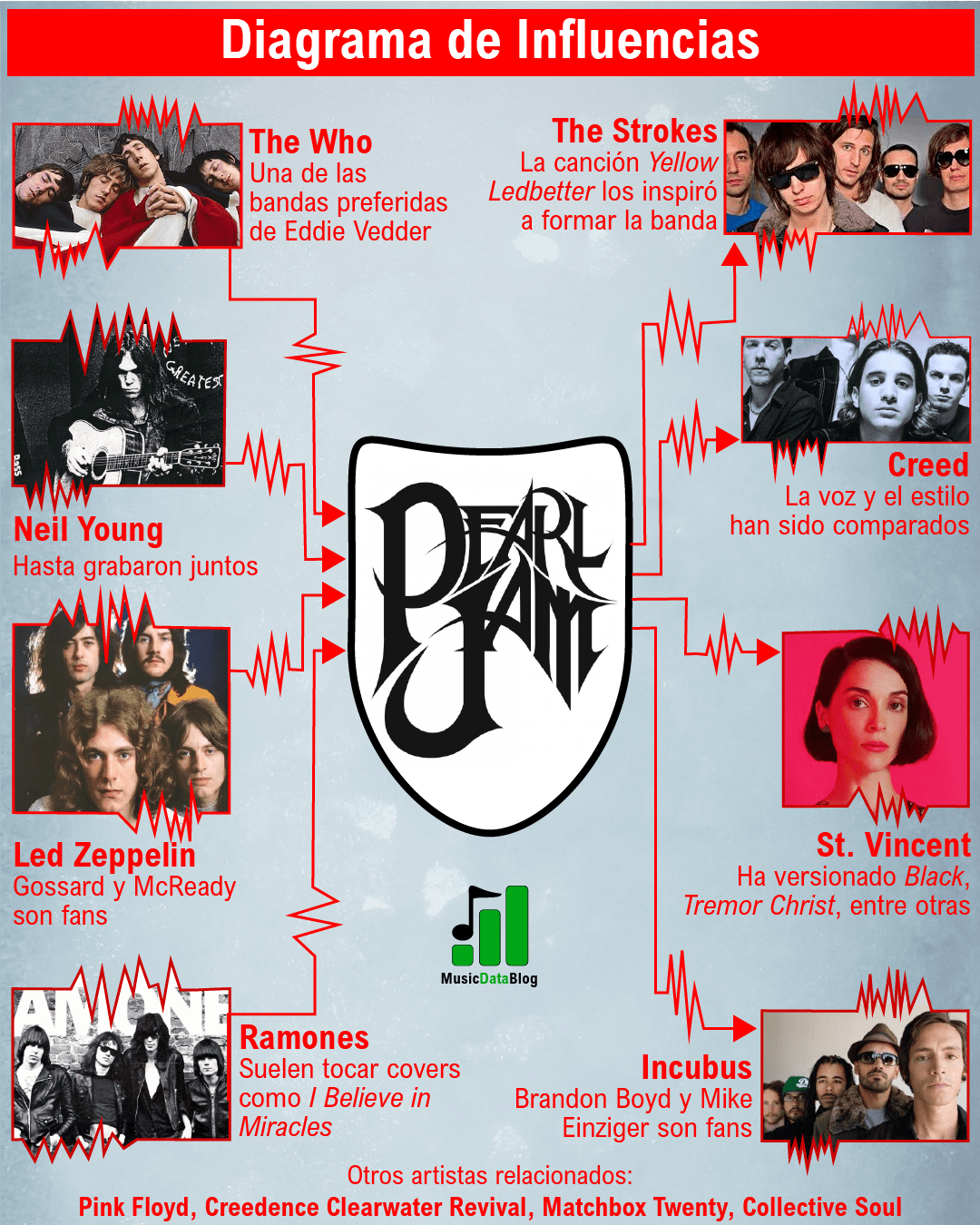 Pearl Jam influences
They recorded the album Mirror Ball with Neil Young in 1995. Also, they have shared the stage with the canadian rock icon in several ocations and the classic Rockin in the Free World is a song that Pearl Jam plays frequently on their live performances.
Pearl Jam are also big fans of The Who, having covered in 2008 for the VH1 Rock Honors Love Reign o´er me and The Real Me, original from the Quadrophenia album (1973). The wild live performances of Pete Townshend and his entire band have been a mega influence on the rock attitude of Eddie Vedder and his people, who give some of the best live shows that can be seen today.
The influence of Led Zeppelin, the luxury of every guitarist, is present in the two guitarists of Pearl Jam, Mike McReady and Stone Gossard. Related to this influence, Gigaton's third single, Quick Escape, surprises with a rhythmic bass-drum base worthy of Bonzo and John Paul Jones.
Another band that Pearl Jam usually covers live: The Ramones. The influence of the New York punk quartet is more noticeable since the album No Code, with direct and rude tracks like Mankind or Hail Hail. That influence would be accentuated after 2000 on albums such as Backspacer from 2009. Not to mention that they usually do a live version of I Believe in Miracles, an original by The Ramones from 1989, from the album Brain Drain.
As an additional mention: Pink Floyd are another of the influences on Pearl Jam, especially in its 2000 era. In addition, the grunge pioneers cover songs of them live like Interstellar Overdrive, Mother or Comfortably Numb.
Artists influenced by Pearl Jam
Indie rock heroes The Strokes formed the band inspired by the classic b-side of the Ten album era (1991), Yellow Ledbetter. Also the garish style of the vocals of Julian Casablancas is inspired by those inflections of voice of Eddie Vedder.
Something obvious: Creed's friendly metal classics were always compared to Pearl Jam. Owners of a sound linked to heavy metal, it is impossible not to notice a link between Scott Stapp's vocal style and that of Vedder. On the other hand, some songs by Mark Tremonti's composer bear some similarities to what was released by Pearl Jam in Ten. It is worth at least your inspirational fee.
St. Vincent has declared his love for Pearl Jam on several occasions, but the most notable have been his live performances of songs like Black (Ten's classic) or Tremor Christ (from the 1994 fundamental Vitalogy).
Incubus' expertise, which reaches the height of session musicians, has been impacted by Pearl Jam, the band they are fans of. As a note of color, after a rumor, guitarist Mike Eizinger refuted his alleged involvement in Lightning Bolt.
More grunge related content