This timeline goes through the history and music trajectory of Chris Cornell, leader of Soundgarden and Audioslave, who also had a well-known solo career.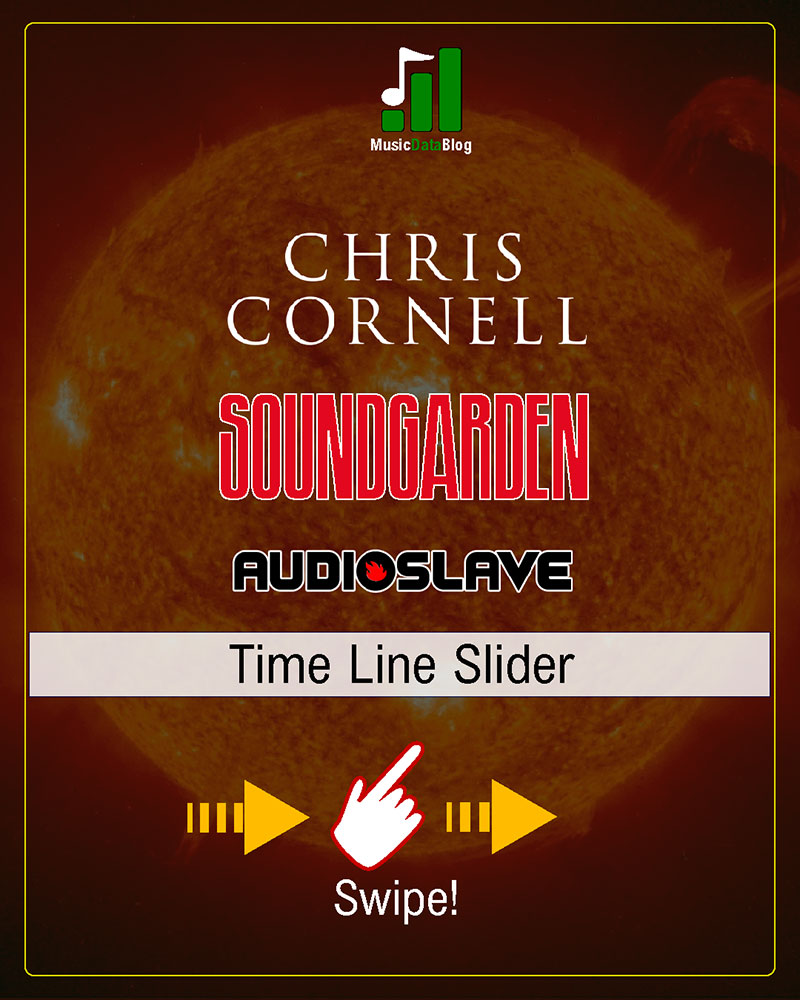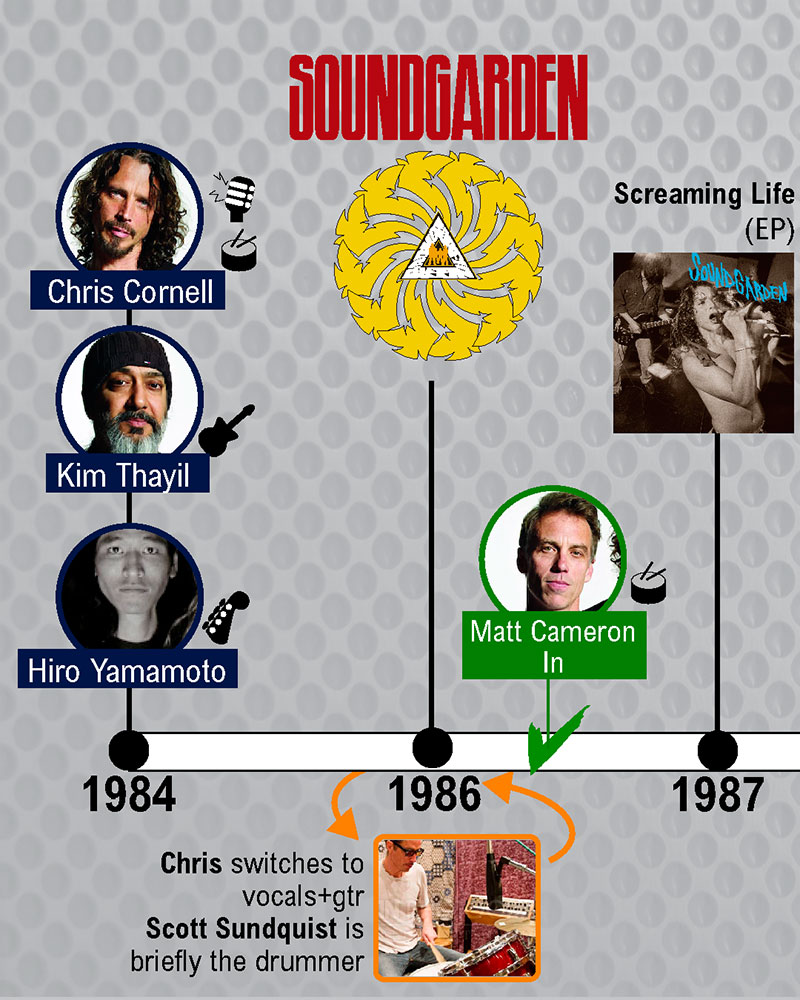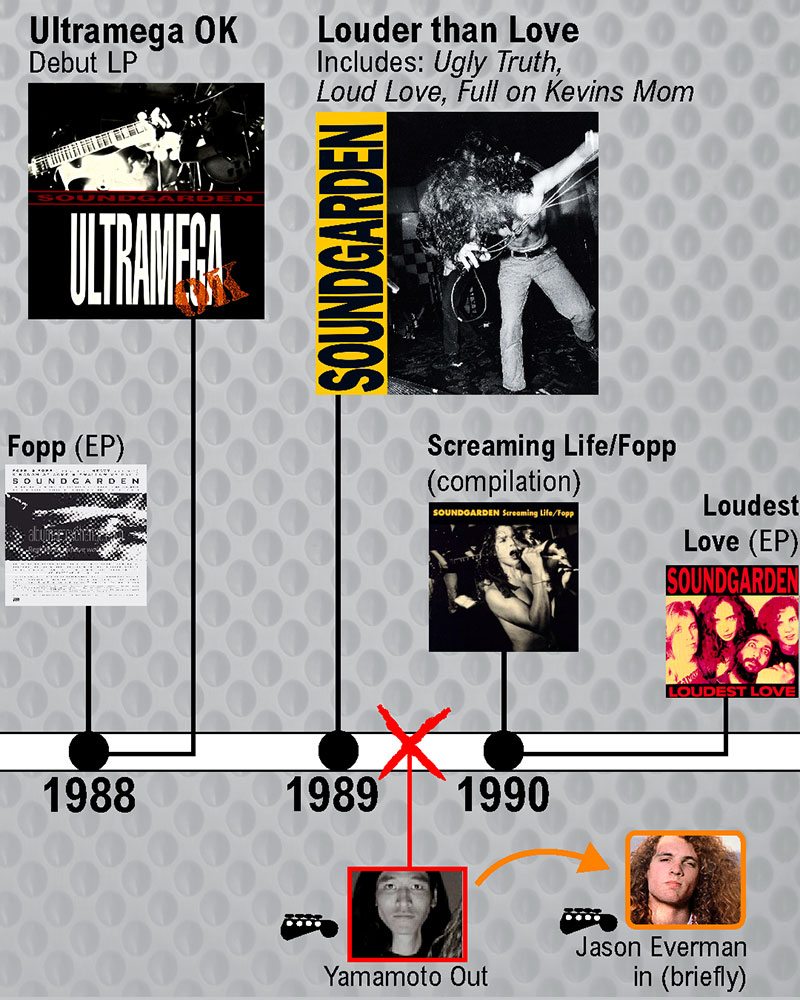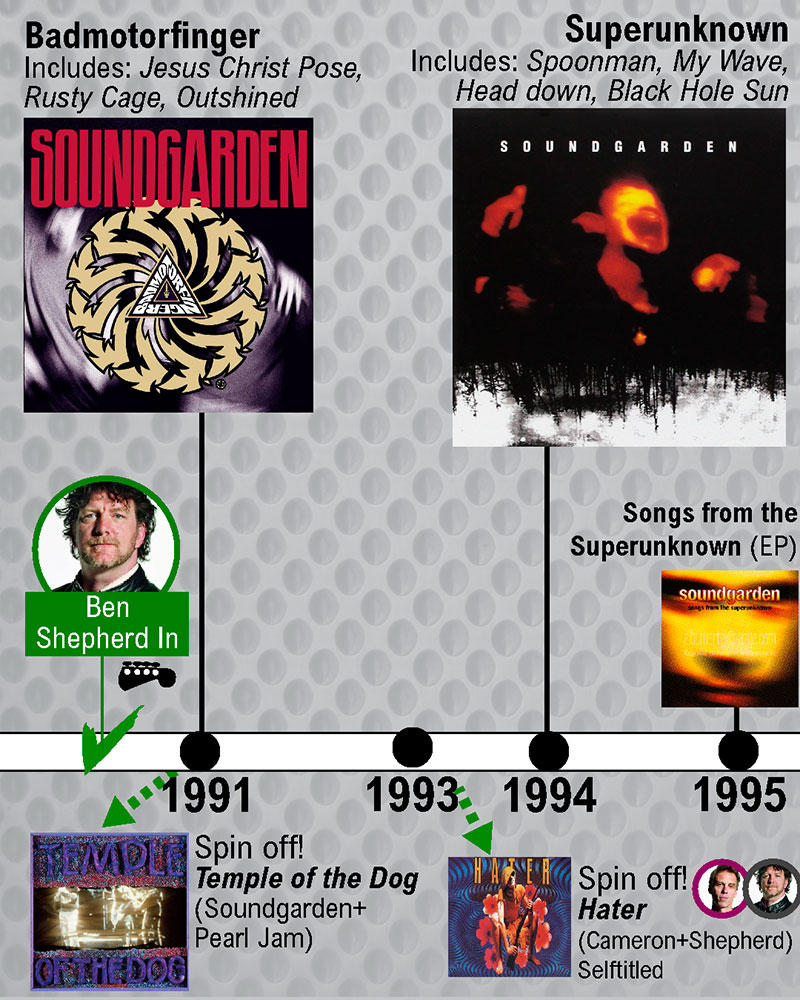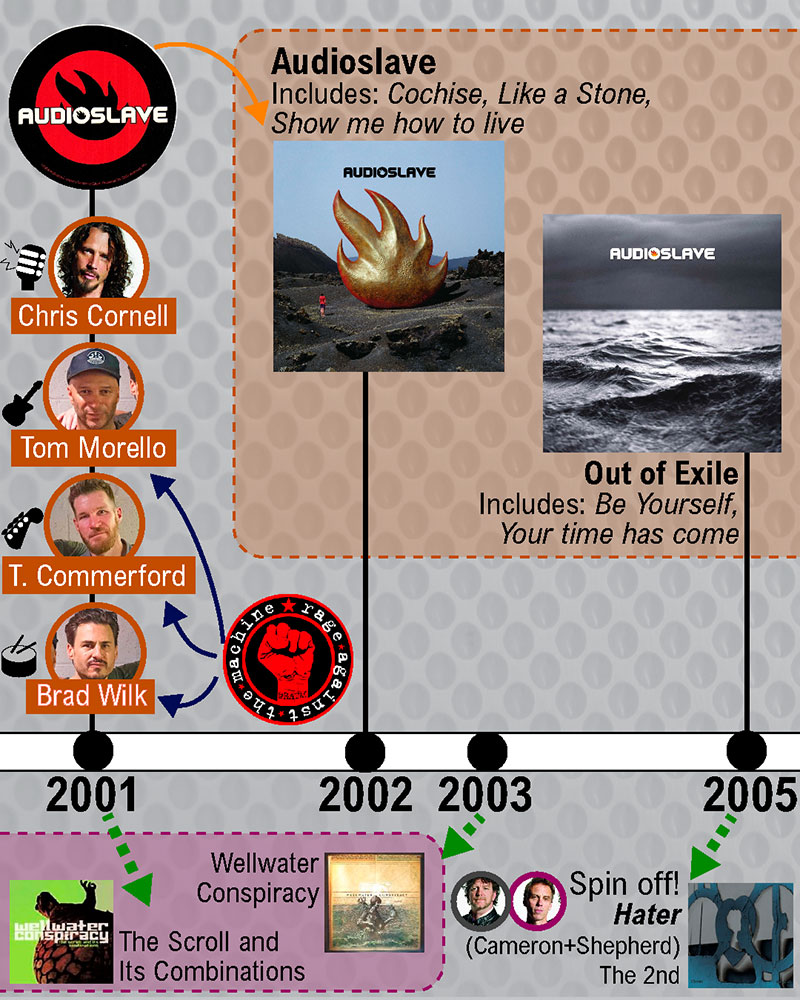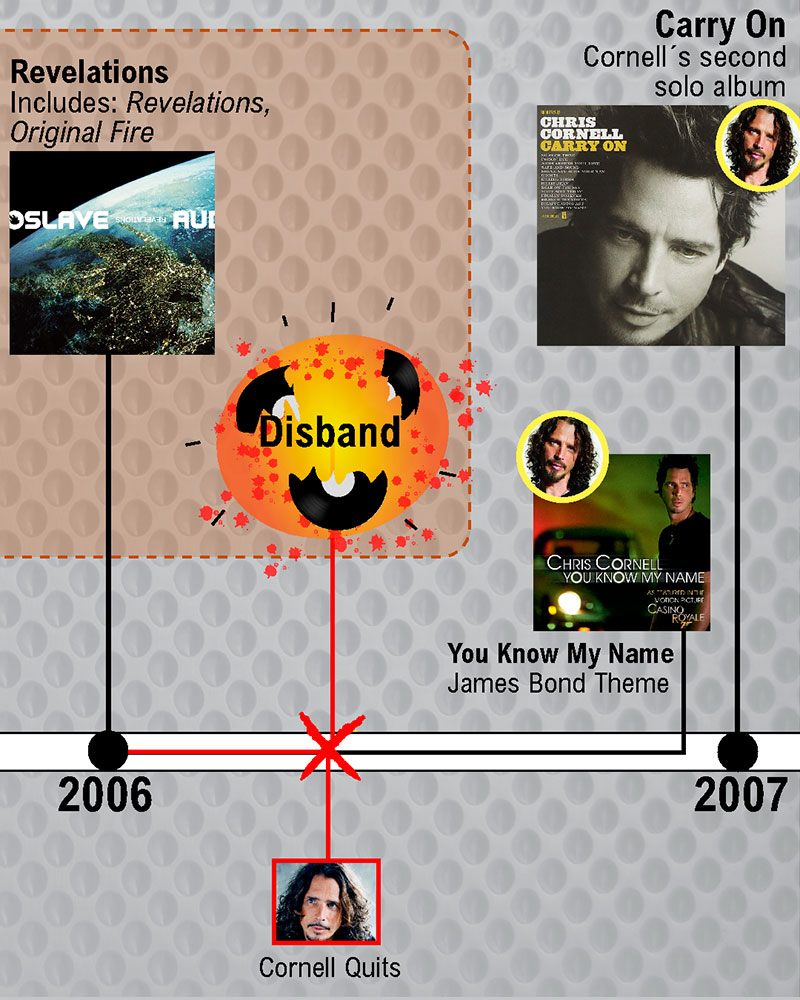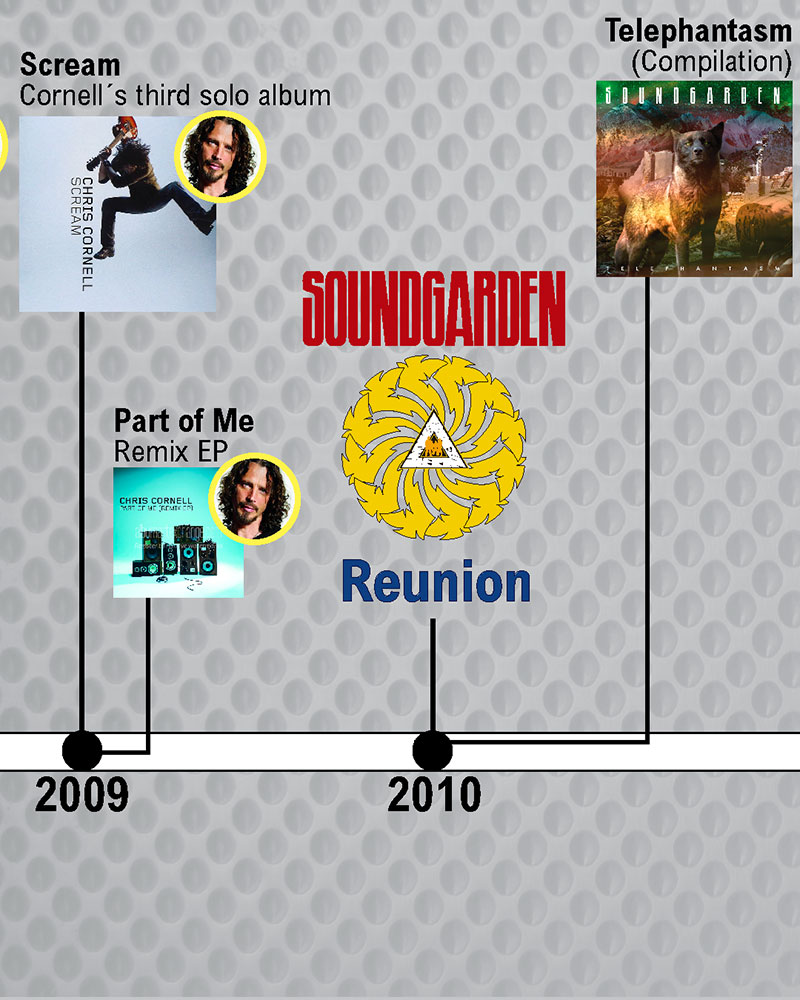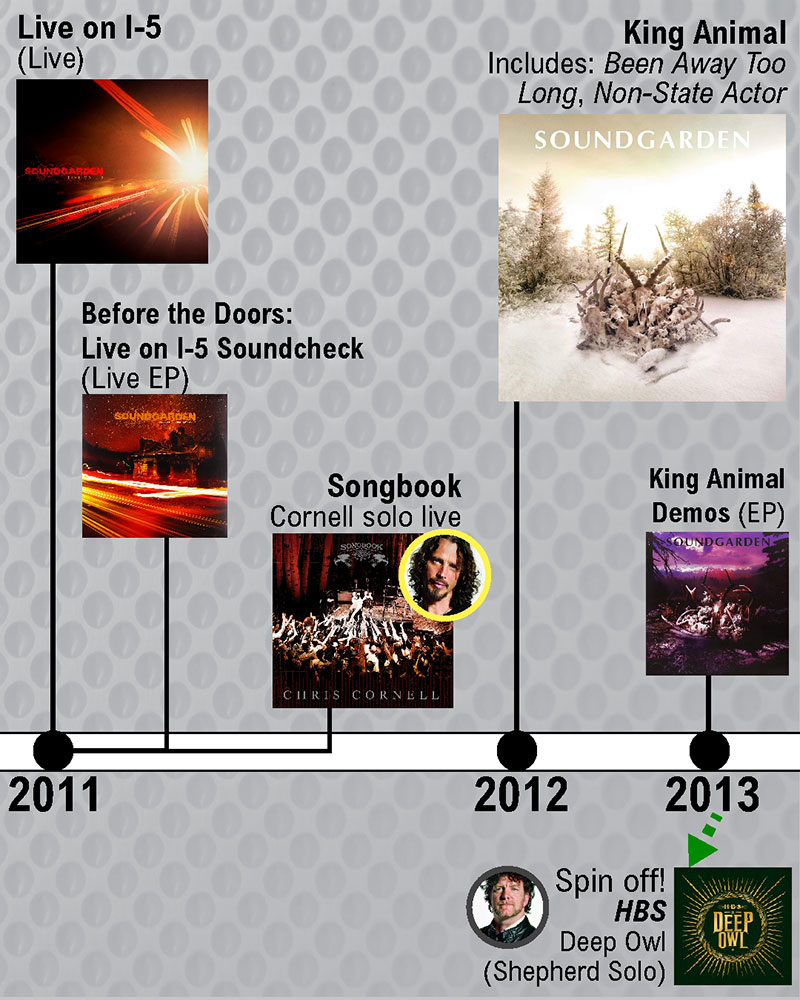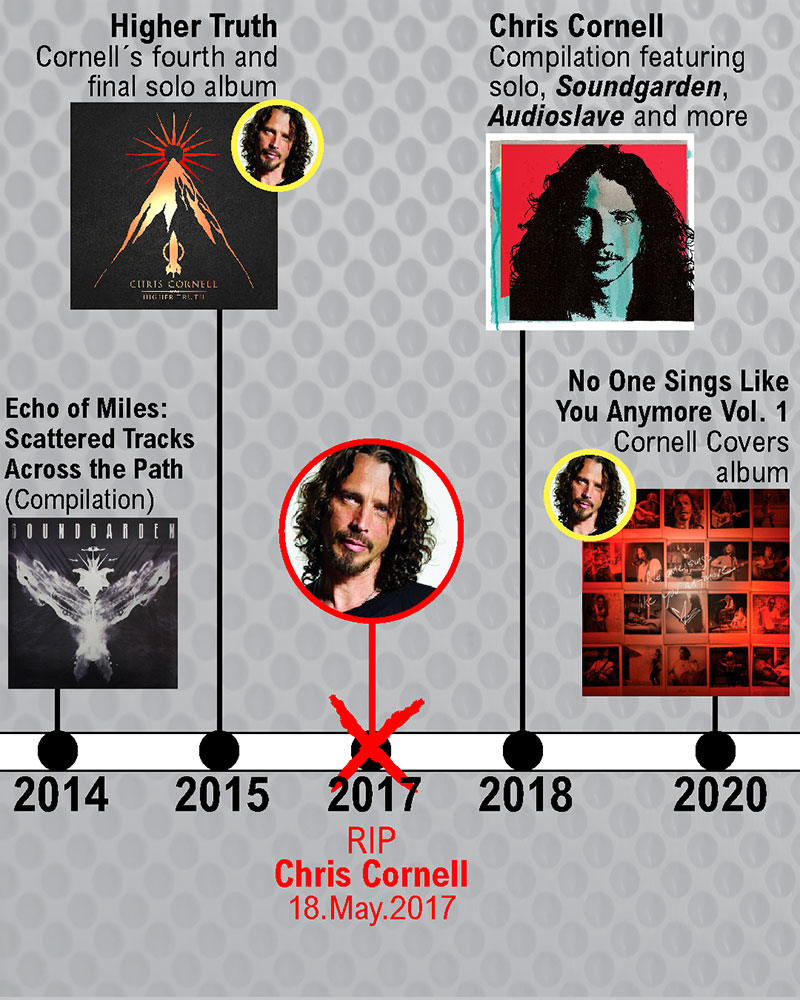 Chris Cornell was born on July 20, 1964 and passed away on May 18, 2017.
The history of Soundgarden
Soundgarden was founded in 1984 in Seattle, by guitarist Kim Thayil, bassist Hiro Yamamoto, drummer Matt Cameron, and lead singer/guitarist Chris Cornell. In 1988 they released their debut LP, Ultramega OK and in 1989 its follow-up, Louder Than Love.
In 1990 Yamamoto left the band and was replaced with Ben Shepperd.
By 1991, when they released Badmotorfinger, they have already gained attention from the public and the media. In 1994, with the release of Superunknown, they achieved mainstream success, as songs like Black Hole Sun and Spoonman became worldwide hits.
Soundgarden disbanded in 1997, following the release of their fifth LP, Down on the upside.
After this, Chris Cornell started his solo career. He recorded the moderately well-received Euphoria Morning in 1999, before joining a new band: Audioslave.
The history of Audioslave
Audioslave was formed in 2001. Alongside Chris Cornell as lead vocalist, the line-up was completed with ex Rage Against the Machine members Tom Morello (guitar), Tim Commerford (bass) and Brad Wilk (drums). Audioslave released three studio albums: their self-titled debut in 2002, Out of Exile in 2005 and Revelations in 2006, right before disbanding.
Chris Cornell solo and Soundgarden reunion
After leaving Audioslave, Chris Cornell returned to focus on his solo career. He released her second studio album, Carry On, in 2007. That year he also contributed to the new James Bond film You Know MY Name soundtrack, with the title track. Two years later, in 2009, he released his third LP Scream.
Soundgarden got back together in 2010 and they released their final album, 2012´s King Animal.
As a solo artist, the singer released his fourth studio album, Higher Truth, in 2015. Two years later, Chris Cornell passed away on May 18th, 2017, while on tour with Soundgarden.
As for 2021, there is still a chance that another Soundgarden album is released in the future. Former band members Kim Thayil, Ben Shepperd and Matt Cameron are in a legal dispute about this matter against Chris' widow, Vicky Cornell. We hope this disagreement can be settled at some point, so unreleased Soundgarden material can finally see the light of day.
Soundgarden Studio Albums
Soundgarden began their activity in the mid-eighties. They have released six full-length studio albums:
Ultramega Ok (1988)
Louder than Love (1989)
Badmotorfinger (1991)
Superunknown (1994)
Down on the Upside (1996)
King Animal (2012)
Audioslave albums
In 2001 Chris Cornell started Audioslave along with former members of Rage Against the Machine. They have released three albums:
Audioslave (2002)
Out of Exile (2005)
Revelations (2006)
Audioslave achieved critical and mainstream success since it's first album.
Chris Cornell's solo albums
Chris Cornell released four solo albums:
Euphoria Morning (1999)
Carry On (2007)
Scream (2009)
Higher Truth (2015)