Below we can find a chart infographic with all of Pearl Jam's albums ranked, with the exception of Gigaton (2020). As expected, their debut album is considered their best and at the top, far from later releases.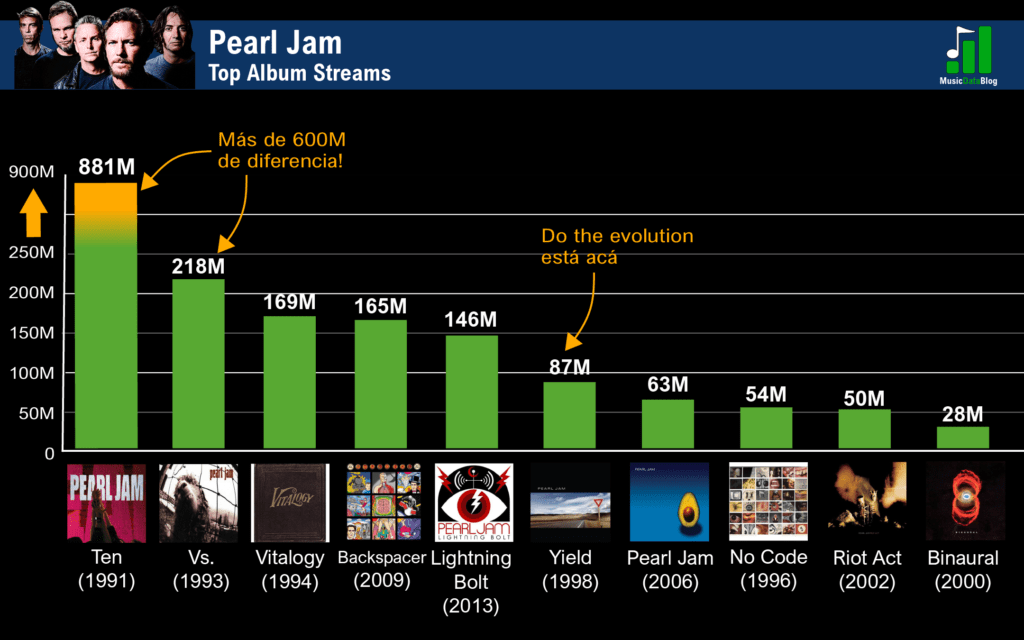 The importance of a band like Pearl Jam is undeniable. The mainstream grunge band has released eleven albums and scored plenty of big hits, such as Jeremy, Evenflow and Do The Evolution. But, which is the relevance of Pearl Jam during today's music streaming era? Let's look at the data breakdown.
The album that many people already think about appears as their most popular album: Ten (1991). Their top most listened albums include Vs. (1993) in second place, Vitalogy (1994) in the third spot, which their second and third albums respectively.  These two also are considered to be among the band's best output. The surprise for many of us comes right in the fourth and fifth place: Backspacer (2009) and the very weak Lightning Bolt (2013) somehow, are quite popular on Spotify.
Ten is by far Pearl Jam's best album
Ten is a key album for the grunge and alternative rock movements of the nineties. To this day, classic tracks like Alive, Jeremy, Evenflow and Black are at the top of the genre's songs. The popularity of those four tracks is actually one of the reasons why Pearl Jam had consolidated as one of the great grunge music bands. The truth is that the streaming volume of the album Ten is almost equal to the streaming volume of the rest of their discography. To see this more clearly, below you can find another chart that shows exactly the same data as the previous one, but in a different manner: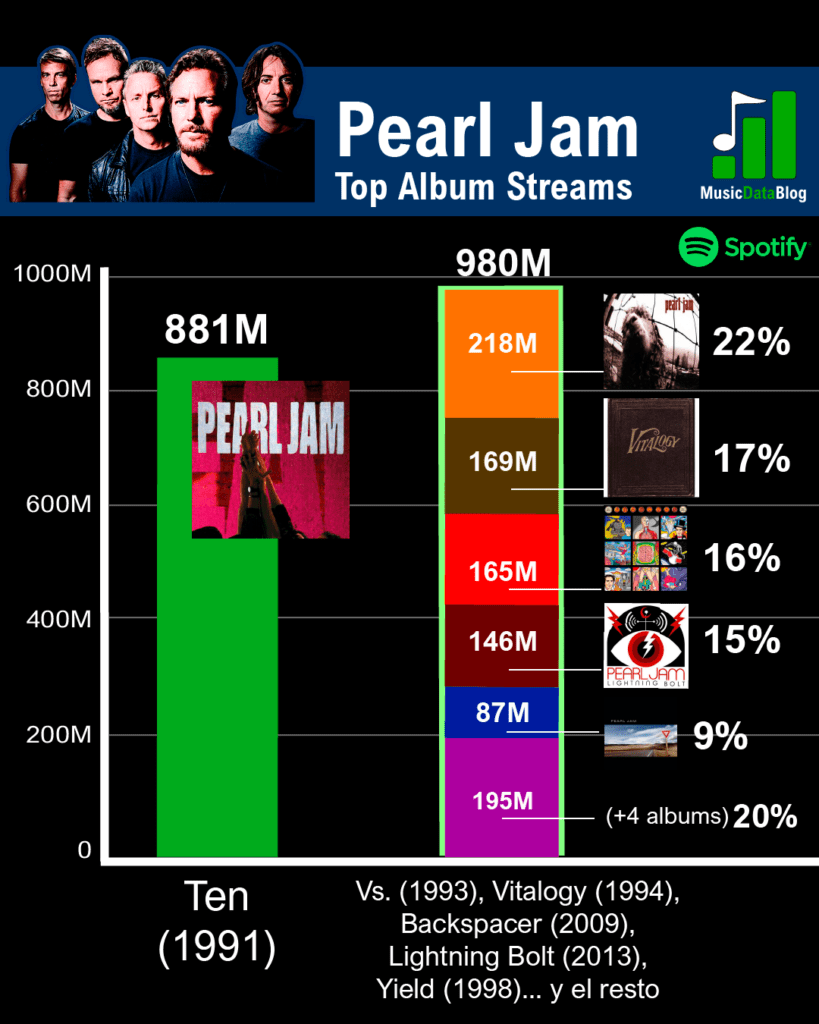 So it turns out that yes, definitely, Ten is Pearl Jam's most streamed album by far.
While albums like Vs. or Vitalogy are also considered contenders for the best Pearl Jam album, Ten's legacy is undeniable. This doesn't mean that these other records are not solid. They actually include great songs that fall within Pearl Jam's most played on Spotify: Daughter, Elderly Woman Behind the Counter in a Small Town, Betterman, and Spin the Black Circle.
What about Pearl Jam's worst albums?
The fact that albums like Backspacer or Lightning Bolt have so many streamings is because they include the singles Just Breathe and Sirens respectively. These are songs that are not among the best in their catalog, but the truth is that with these tracks Pearl Jam expanded their audience beyond their hardcor fanbase.
Usually, those of us who have followed the band since its inception, we are not really fond of their latest output. This may be because they don't come up with massive tunes anymore or because they sound less aggressive. In any case, it must be said that the change has paid off.
With Backspacer and Lightning Bolt, Pearl Jam managed to achieve success again and leave behind the lack of response to their least popular albums Binaural (2000) and Riot Act (2002). Not to say that these two albums are bad by any means, but almost no fan considers them as their most relevant.
Pearl Jam's underrated albums: Yield and No code
It is surprising that Yield is not featured within the top 5 albums of the band in terms of Spotify streams. It seems that the excellent singles Do The Evolution, Given to Fly and Wishlist have not transcended so much among today's listeners.
Moving to the next, we can say that No Code is that album that is loved by some fans and hated by others. It includes classic songs on the band's usual live setlist, such as Hail Hail and Present Tense.
Anyways, Yield and No Code seem have been forgotten in the era of digital music. In the case of No Code, neither the critics nor the media have ever liked it. But as said above, to find Yield in such a low spot is a surprise, as many people consider it among the best of Pearl Jam's records, as it has powerful singles and good ballads.
So, we can say that most probably Pearl Jam's Ten will remain their greatest album. Let's hope that Gigaton is a more solid effort than the album that is sitting in the fifth spot.
Listen to Pearl Jam on Spotify.
More music content about grunge