This ranking includes all of Alanis Morissette's albums from best to worst, according to specialized music critics. As expected, her most popular album is also considered her best, while her first two releases are seen as her worst.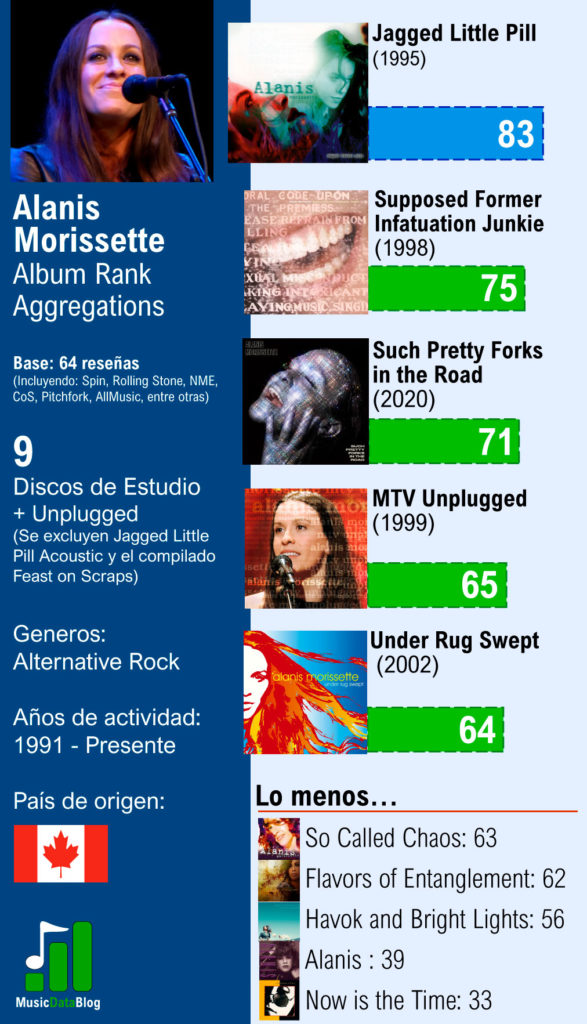 Source: Alanis Morissette on Album of the Year
With the recent release of Such Pretty Forks in the Road (2020), Alanis Morissette presented some kind of return to form that was initially praised by critics. Personally, I consider it to be far away from her best efforts, such as the well-known Jagged Little Pill (1995), Supposed Former Infatuation Junkie (1998) and Under Rug Swept (2002).
Which are Alanis Morissette's best albums?
Obviously, the first place is the aforementioned Jagged Little Pill. A real classic album, it spawned successful singles like You Oughta Know, Ironic, and Hand in My Pocket. The entire album is excellently crafted, with an impeccable production by Glen Ballard, high-level songwriting, and a fresh sound for the time.
Second place is no surprise either: While Supposed Former Infatuation Junkie fell short in sales expectations compared to its predecessor, it is still a good record. Sure, the album could have benefited from having some songs removed, as it has 18 tracks and it is in fact a little too long. Singles like Thank U and So Pure came from this record. Other notable are tracks like The Front Row and Baba.
In the third spot, we find the latest output from Alanis Morissette, the brand new Such Pretty Forks in the Road. In my opinion, an album without many new ideas, in which the singer shows nothing at all and does not go into any risks. Perhaps the contrast with her immediately previous works is slightly better, but in my opinion, this is not enough to put it in third place, above other better albums in her career.
Alanis Morissette's MTV Unplugged (1999) is well ranked. A good show that featured a version of The Police's classic King of Pain and other tracks that were not included in her previous full-length albums, like Uninvited.
Under Rug Swept is in my opinion one of Alanis Morissette's strongest records. With good production and a sharp but also pop sound, it is unfairly in the middle position of this ranking.
Alanis Morissette´s least popular albums
So-Called Chaos (2004) is an uneven album. It provides a powerful sound but languishes in many of its tracks. I think this is the album where Alanis Morissette's compositions really start to feel weaker. In this album, an attractive track like 8 Easy Steps is contrasted with a poor single like Everything …
Already in the 2000/2010 hinge, Alanis Morissette's production had ceased to impact anyone who was not a true follower of her. The albums Flavors of Entanglement (2008) and Havok and Bright Lights (2012) are more likely to be forgotten than to remain in their career as a high point in quality. Flavors… in particular doesn't seem like a bad piece to me but I understand why it went unnoticed.
If it was obvious which album would be his most critically acclaimed, it was also obvious which would be her least appreciated works. Her first two albums (Alanis from 1991 and Now is the Time from 1992), are clearly teen pop style, and often seem more like a stain in her career. This fact also contributed to the surprise that her breakthrough album Jagged Little Pill was. Nobody expected Alanis Morissette, a light-sounding and good-natured performer at the time, to release a sharp rock record with such power.
At the bottom of the chart we have 2001's Feast on Scraps and the acoustic version of Jagged Little Pill, which honestly aren't bad at all. I did not take them into account here because they are not original full-length productions but rather re-recordings and compilations. That said, they are a recommended listen for those who have liked the best of this Canadian singer.