This infographic shows all albums by The Cranberries ranked according to their streaming volume on Spotify. Find out which is the best album from Dolores O'Riordan's band right here below.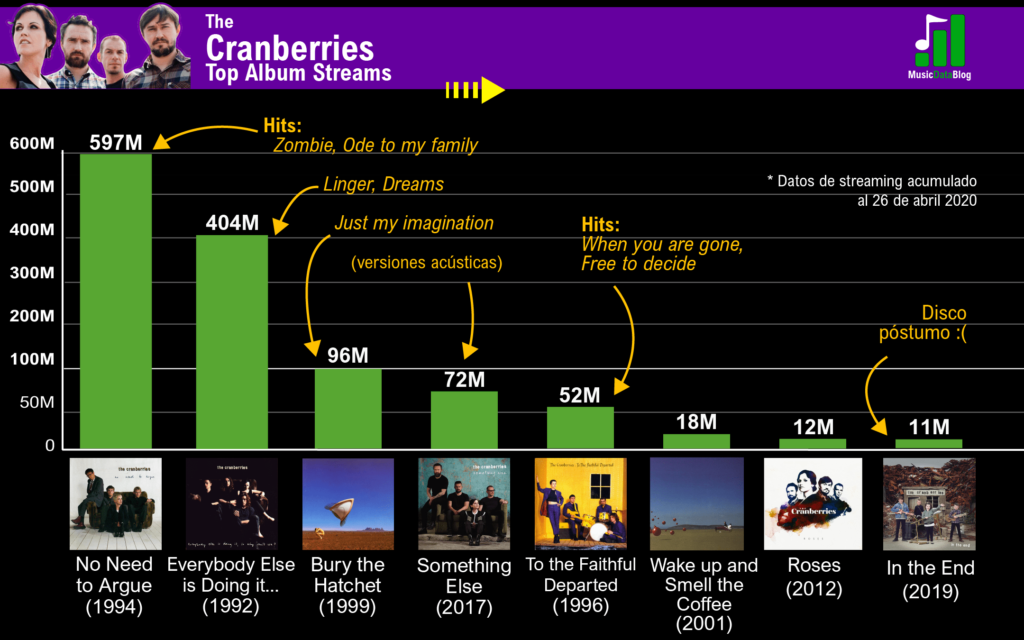 The last Cranberries album, In the End, came out on April 26, 2019. It was completed by the rest of the band after the death of lead singer Dolores O'Riordan, on January 15, 2018.
The Cranberries' most popular albums
As expected, when reviewing statistics for this chart, I found out that No Need to Argue (1994) is The Cranberries' most popular album. Their hit single Zombie is perhaps their most emblematic song, as its streaming volume is extremely high. Also, other songs from that same album make it into the band's top 20: Dreaming my Dreams, Empty, Twenty One, and Ridiculous Thoughts are good examples of this. This album is quite consistent and does not depend solely on the track Zombie.
Now, the situation with The Cranberries' debut album, Everybody Else is Doing it so Why Can't we? (1992). The streaming volume of this album is driven by two of its hits songs, Linger and Dreams, while the rest of the tracks do not have so many streams and fall into the less transcendent output from the band.
After their two first releases, the Irish band was unsuccessful in their attempt to stay relevant. In third place by far -and this means, very far- we can find their album Bury the Hatchet from 1999, which in my opinion is better than their first two albums. It contains good songs such as Just my Imagination, Animal Instinct and Promises, songs with streaming volume rates that are not even close to the most popular tracks from The Cranberries.
On the fourth spot, we find the album of acoustic versions Something Else, released on 2017. This record is in fact a re-recording of the band's classic songs, some of which I already mentioned above in this same post. The album features only three new songs. So we may consider this just as a reminder of better times.
On spot number five, we find To the Faithful Departed, which is for me The Cranberries's best album. It is their most rock-oriented album, as it has a solid, guitar-like sound, which shapes the record in a more aggressive style than other efforts from the band. This album includes the great song Hollywood as an opening track, and also features other great tunes such as When you are gone, Free to decide, Salvation, and Forever Yellow Skies.
The Cranberries' least-popular albums
The worst that The Cranberries released are their latest ones. These are: Wake up and Smell the Coffee (2001), Roses (2012), and the previously mentioned In the End. About this last album, it is important to note that it has only been out on the streets for a year, so it should not be a surprise that it is in the last position on this chart. Still, I have serious doubts that it will make it much further.
The Cranberries were a band that transcended specifically with their first two albums. At the time the band released their third and fourth albums, their ability to produce big hits had already started to fade.
We are left with the best memories of Dolores O'Riordan's sublime vocal performances with Zombie, Dreams, and perhaps my favorite song in their catalog, Salvation.
Nostalgia mode on…
More content: