This chart shows Foo Fighters' albums ranked from best to worst, according to their popularity on Spotify. Dave Grohl's band has proved to still be relevant for rock music.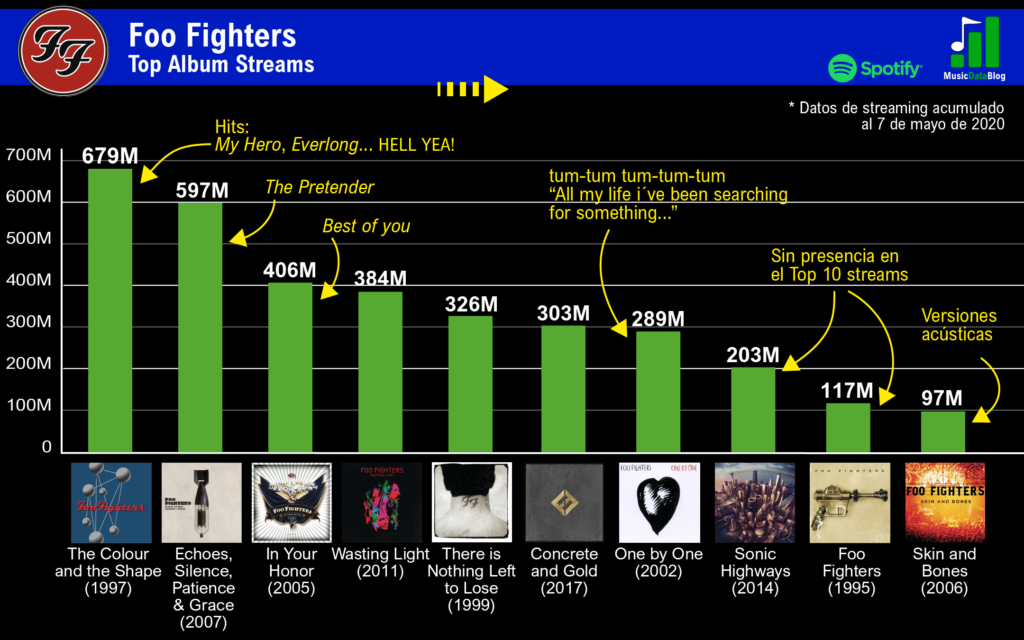 Emerged in the mid-1990s, Foo Fighters have proven Dave Grohl's rock icon status. The former Nirvana drummer continues rocking to this day and is capable of writing hit songs almost 30 years after Nevermind (1991).
Foo Fighters have released Medicine at Midnight in January 2021. But it is really too soon to compare this album to the rest of their catalog, therefore is not included in this chart.
Foo Fighters most popular albums
One of the first things that struck me is the consistency of the streaming volume through the band's discography: while The Colour and the Shape (1997) is clearly their most popular record, they have also achieved considerable success with their later work. Albums like Echoes, Silence, Patience & Grace (2007), Wasting Light (2011) and In Your Honor (2005) are within the top 5 of their streamings.
The least significant album from the band is the live acoustic album Skin and Bones (2006) and the self-titled debut (Foo Fighters 1995). In particular, I'm not surprised that Sonic Highways (2014) is among the least popular releases of Foo Fighters. That said, the band's overall streaming numbers seem to be excellent and are above many of their peers. Foo Fighters is still a solid group, synonymous with rock n' roll.
Foo Fighters most popular songs:
Here is a top 10 of Foo Fighters tracks:
Everlong (The Colour and the Shape): 369,563,216 streams
The Pretender (Echoes, Silence, Patience & Grace): 337,263,805 streams
Best of you (In Your Honor): 289,589,110 streams
Learn to fly (There Is Nothing Left To Lose): 230,307,316 streams
All My Life (One By One): 151,932,852 streams
My Hero (The Colour And The Shape) 148,177,645 streams
Walk (Wasting Light): 112,742,565 streams
Monkey Wrench (The Colour And The Shape): 92,850,737 streams
The Sky Is A Neighborhood (Concrete and Gold): 91,404,478 streams
Times Like These (One By One): 86,211,152 streams
(* Data date: may 7th, 2020)
Three classic songs from The Colour and the Shape manage to sneak into the top most played from the band on Spotify: My Hero, Everlong and Monkey Wrench. Other hymns such as The Pretender, Learn to Fly or Times Like These are also popular songs that helped Foo Fighters to maintain their relevance.
Moving forward, neither Sonic Highways nor the Foo Fighters' self-titled debut album have even one track among the band's most-streamed songs. The album that has the most even and consistent plays of all of its tracks is Wasting Light.
Said all this, we can see that Dave Grohl's band is still up to the task of keeping fans engaged with great rock tracks. No one expects super innovative songs from the Foo's, but except for their last two albums, they have always shown an amazing ability to write hit songs for any stadium audience to sing along. And I toast to that.