Red Hot Chili Peppers have released twelve studio albums, which the most  The following chart shows the band's discography ranked according to their streaming volume on Spotify.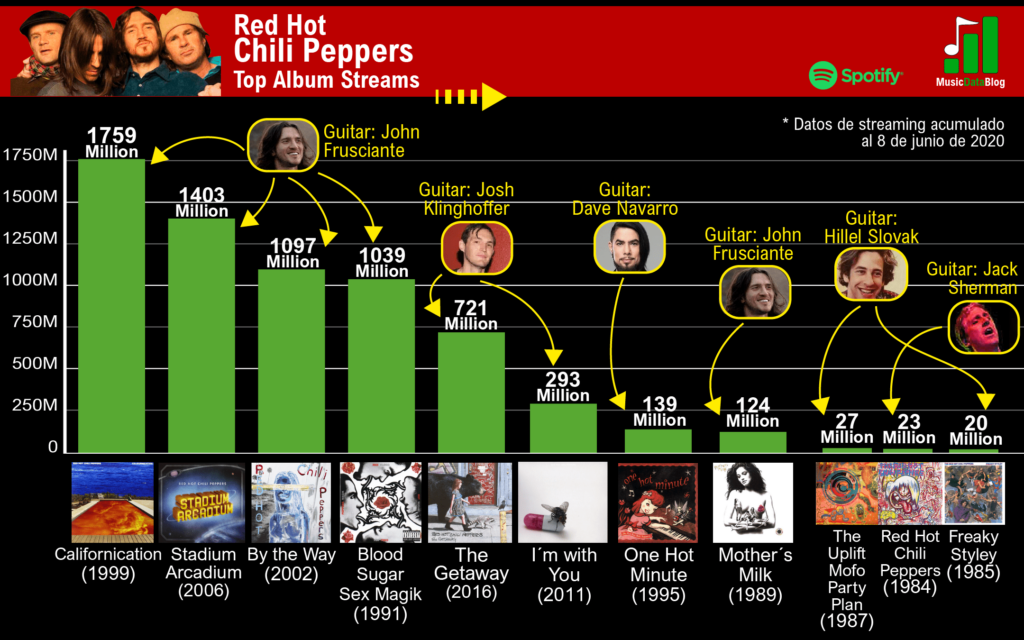 *Spotify total streams data from June 8th, 2020.
This chart does not include RHCP's 2022 releases, Unlimited Love and Return of the Dream Canteen.
As you can see above, four out of the five studio albums that RHCP have recorded with guitarist John Frusciante are on the top and considered among their bests, with Californication (1999) being their number one.
Red Hot Chili Peppers' most popular albums
Red Hot Chili Peppers have a substantial discography. John Frusciante's creative genius is loved by all RCHP fans. At the end of 2019, the news of him returning to the band was received with quite some hype. Frusciante joined Flea (bass), Anthony Kiedis (Vocals) and Chad Smith (drums) for a third time. Because of this, Red Hot's guitarist for their two most recent records, Josh Klinghoffer, was out of the band.
With that said, let's start figuring out why this Red Hot Chili Pepper's album chart looks like this.
By the end of the nineties decade, the album Californication was a big boom. Supported by hit singles as Scar Tissue, Californication, Otherside and Around the world, this is the Red Hot Chili Peppers best selling album to date. After disappointing fans and critics alike with their 1995's One Hot Minute (their only record with guitar player Dave Navarro), they reinvented themselves with this wonderful album, Californication. At the time this album brought the Red Hot Chili Peppers back to the spotlight as one of the world's best rock and pop bands.
Right behind Californication, and not being a personal favourite of mine, the album Stadium Arcadium from 2006 appears to be their second most successful. It also marks John Frusciante's second departure from the band.
On third place, we have the sequel to Californication, which is By the Way (2002). Even though it was not as successful as its predecessor, it was good enough to make it into top 3 of this popularity Spotify chart. It features some good songs such as By the Way, The Zephyr Song and Can´t Stop.
On the fourth spot, we also have an album recorded with guitarist John Frusciante: Blood Sugar Sex Magik. Released in 1991, this was their first big album. It includes some great nineties hits such as Suck my Kiss, Give it Away, Breaking the Girl, and the band's most streamed song: Under the Bridge.
So, in summary, this chart shows that Frusciante's work with the band is their most popular.
In the fifth and sixth place we have both of the albums recorded with guitarist Josh Klinghoffer: The Getaway from 2016 and I'm With You from 2011. These are solid efforts, that is for sure. It was not easy for Klinghoffer to have to replace the band's most loved guitar player, the previously mentioned John Frusciante. He took the job with his own style while being able to blend in with the Red Hot Chili Pepper's sound in a proper manner. From this era some well known songs, such as Dark Necesities, Sick Love and Go Robot, were published as singles.
Red Hot Chili Peppers' least popular albums
The previously mentioned One Hot Minute lands in the seventh spot, something I was not expecting really. This "heavier version" of the Red Hot Chili Peppers recorded hits such as Aeroplane, My Friends, One Big Mob and Warped but people seem to have never cared as much for this era of the band. Sure, guitarist Dave Navarro was not John Frusciante, as their styles are significantly different. Navarro's guitar sound is quite full and hard, and perhaps more technical and precise. Frusciante's style has always been creative, softer at some point, and has proven to be a hit-or-miss live. Nevertheless, Red Hot Chili Peppers big fans are not fond of Dave Navarro's era.
At the end of this chart, we can find everything the Red Hot Chili Peppers recorded during the eighties, even with Frusciante on board. All that is at the bottom of the list. Their pre-mainstream and less commercial albums are not remembered much in the Spotify era. The band's work with original guitar player Hillel Slovak (April 13 1962-June 25 1988) is not quite as popular as all their other stuff. At that time, they were less professional and had an underground sound, with clear influences from hardcore, punk, and funk. Truth to be told, that sound style can never be mainstream, not during the eighties and also not in 2020 either.
Top 10 Red Hot Chili Peppers' songs on Spotify
In this list we can see the most popular songs of the Red Hot Chili Peppers:
Under the Bridge (Blood Sugar Sex Magik ) 630,388,026
Californication (Californication) 608,697,583
Snow (Hey Oh) (Stadium Arcadium) 522,776,130
Can't Stop (By the Way) 480,840,205
Otherside (Californication) 412,258,290
Scar Tissue (Californication) 327,686,581
Dani California (Stadium Arcadium) 312,286,357
Dark Necessities (The Getaway) 242,894,341
By the Way (By the Way) 204,278,579
Give It Away (Blood Sugar Sex Magik) 163,815,369