Find Muse's full discography ranked in this chart, which is based on specialized reviews. Their most successful era was in the early 2000's, while their later releases are not considered among their bests.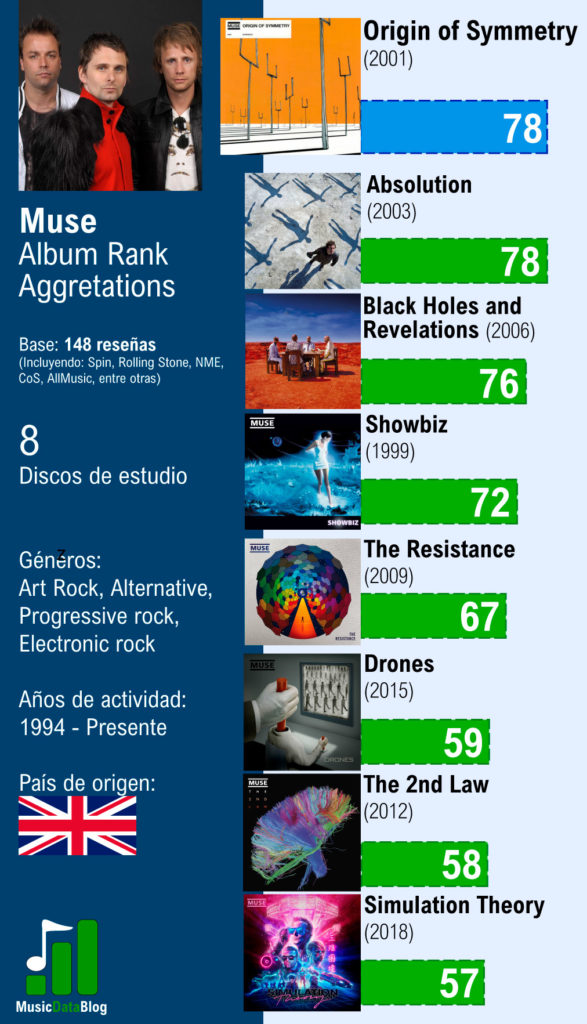 The band Muse, consists of Matt Bellamy (vocals and guitar), Chris Wolstenhome (bass, backing vocals) and Dominic Howard (drums).
I have excluded the 2002 album Hullabaloo Soundtrack from this rank, as it is not properly a studio album but a compiled with rarities and live.
Which are Muse best albums?
It is not surprising at all that Origin of Symmetry (2001) and Absolution (2003) are at the top of the tanking and actually have the same score. Said this, there is a slight difference in favor of the former over the latter in terms of user evaluation. Origin of Symmetry has progressive, experimental, noise and pop overtones with tracks like Hyper music, Plug in Baby, Bliss and the classic cover of Feeling good. In my opinion, Absolution, Muse's third album, should take the cake: it is an excellently produced work, with tremendous songs like Butterflies and hurricanes, Stockholm syndrome, Hysteria and Time is running out.
2006's Black Holes and Revelations ranks third: it is Muse's first album to venture into lighter pop and rock, which was effective without losing freshness. Tracks like Starlight, Map of the problematique and Knights of Cydonia are classics in the group´s repertoire.
Their debut album, Showbiz (1999), has a decent score, something that surprised me. In this record, neither their songs nor their production are the best. Indeed, it sounds more like a spin-off of The Bends from Radiohead (1995), rather than a band with its own identity. Said this, the tracks Muscle museum and Sunburn are the must listen.
Which are Muse worst records?
The Resistance was back in 2009 a well-received piece of work. Uprising is a good example of an appealing single. United States of Eurasia gave a glimpse of one of Muse's musical approaches from that moment on, with an orchestral sound. This is the last album by Muse that really interested me because after it I stopped following them.
Drones, released in 2012, is an album without lyrical creativity that tries to address themes related to a global conspiracy. I'd say it tries and fails because its lyrics do not have any kind of poetry or elaboration. The music is not original either: Muse use their usual tricks. Drones is in my opinion their worst production.
The 2nd Law is an album that was the first sign of exhaustion. Celebrated by some fans, it was the last release to achieve significant hits, such as like Madness and Panic station. But still, the album was not solid, but rather a series of stylistic pranks that in my opinion has not stood the test of time among the fans of the band.
And finally, their most recent album: Simulation Theory, from 2018. Muse became a band that saturated the audience with their attempts at bombast and their huge and pretentious staging. Muse had settled for an eighties synth-rock & pop musical direction that didn't seem to do anything for anybody. Maybe that is the problem with Muse: trying to follow fashionable musical waves that they catch a bit late.
So just like that, gone was the Muse that elaborated their complex song arrangements and did not care as much for generating impact.