This infographic shows the influences of the band Smashing Pumpkins, the popular nineties band fronted by singer and guitarist Billy Corgan. Find out below their key musical inspirations for their sound and style.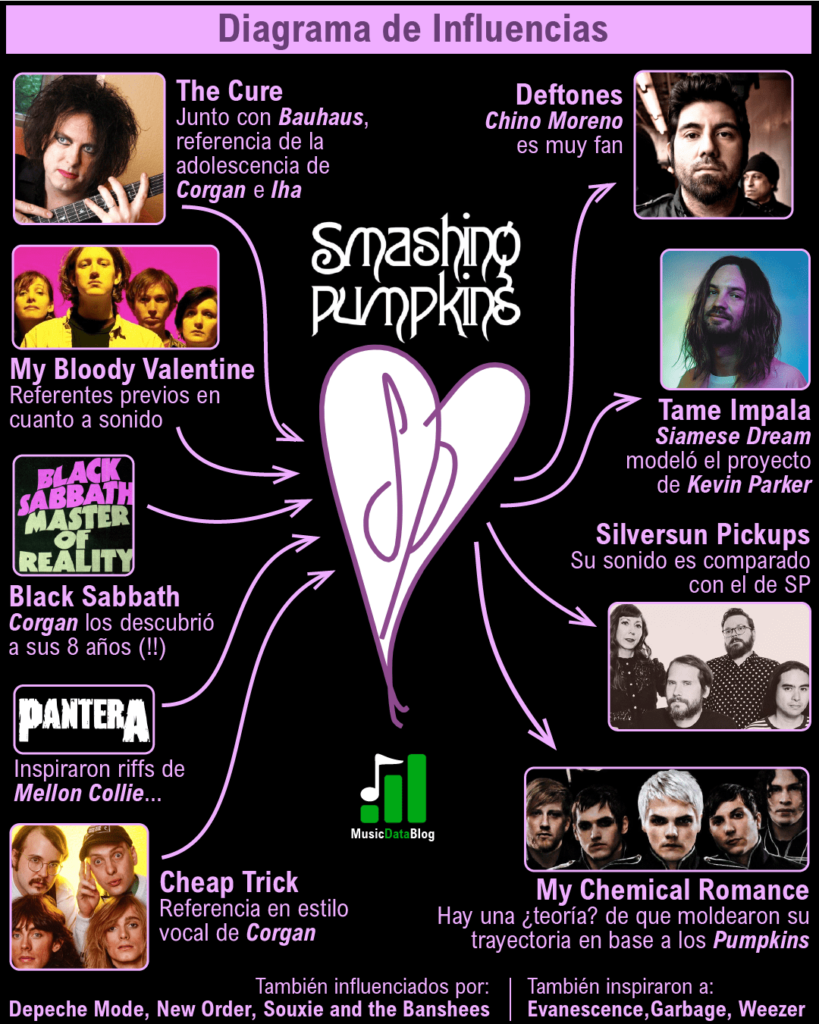 Smashing Pumpkins are a key alternative rock band of the 90s that emerged in the middle of the grunge wave. Recently, at the end of 2020, they released their album CYR.
Which artists influenced the Smashing Pumpkins?
The Cure
Among the many music groups that influenced Billy Corgan, we can mention Bauhaus, New Order and The Cure as the most important ones. According to the lead singer, Smashing Pumpkins combines heavy rock music with an alternative rock style that he listened to during his adolescence. Also, guitarist James Iha is a big fan of The Cure and provided vocals to the cover of A Night Like This, which the band recorded as B-side.
My Bloody Valentine
This band's raucous guitar sound and dreamy vocals were a solid predecessor for the Smashing Pumpkins. Billy Corgan remembers buying their album Isn't Anything in his high school years, and wondering how the band created their signature sound. At the time, Corgan recalls calling James Iha and telling him "you have to listen to this." Kevin Shields praised the Smashing Pumpkins' song Daydream, which Billy Corgan admitted to having stolen from them.
Black Sabbath
An eight-year-old Billy Corgan came across his uncle's record collection, and among those Lps was Master of Reality. It turned out to be a key album when it came to defining the heavier sound of Smashing Pumpkins. Other pioneering heavy rock bands that have been mentioned by Corgan are Led Zeppelin and Deep Purple.
Pantera
Corgan was deeply saddened by the death of Vinnie Paul, the drummer for the heavy metal band Pantera. They were a great influence on their album Mellon Collie & The Infinite Sadness, which features several fast and aggressive riffs. Some examples of this are the songs JellyBelly, Here is no Why, and Where Boys fear to tread.
Cheap Trick
Another great band that Billy Corgan enjoys deeply are influential power pop pioneers Cheap Trick. Specifically, the Pumpkin's frontman has explained that Robin Zander's vocal style helped him define his own. He expressed that due to his nasal tone for singing, he was having a hard time singing and Cheap Trick's was a huge influence on improving it.
Other influences on The Smashing Pumpkins are Siouxie and the Banshees, Depeche Mode, Sonic Youth, Ride and Joy Division.
Which bands are inspired by The Smashing Pumpkins?
Deftones
Chino Moreno, singer of the essential nu-metal band Deftones, has repeatedly expressed his passion for Billy Corgan's band. Moreno mentioned that Siamese Dream is one of his favorite "non-metal" albums and has also collaborated with Corgan notably for live versions of Bodies and Snail.
Tame Impala
Kevin Parker is a really big fan of SP's album Siamese Dream. It is not that he just likes the album, the inspirational quota goes further. Corgan's model of "one man band" served as a reference for Parker to shape his project on records such as Inner Speaker and Lonerism. The same as the Smashing Pumpkins frontman in his beginnings, he decided to record all guitar and bass parts on his own and also to take over production duties on his own.
My Chemical Romance
Gerard Way, singer of My Chemical Romance, recalls saying "this is the band we want to be" at a Smashing Pumpkins concert. This started the theory of My Chem's trajectory being carved after Corgan's band. It is even speculated that the band's breakup (or "hiatus", as they say) is expected to last the same as the Smashing Pumpkins break. Also, the fact that Gerard resembles in looks to Billy spawned additional jokes about the matter.
Silversun Pickups
Hailing from Los Angeles, California, Silversun Pickups have been repeatedly compared to the Pumpkins. Shoegaze, multiple layers of guitars with fuzz, delay, and more sound effects. Even their bassist is a woman… Silversun Pickups actually like being compared to SP, and even say that they were tired of trying not to sound like other bands.
More related content