This timeline shows the history of Blur and Gorillaz, as well as the solo careers of Damon Albarn and Graham Coxon. Swipe below to learn all the chronological details of each of these BritPop-inspired projects.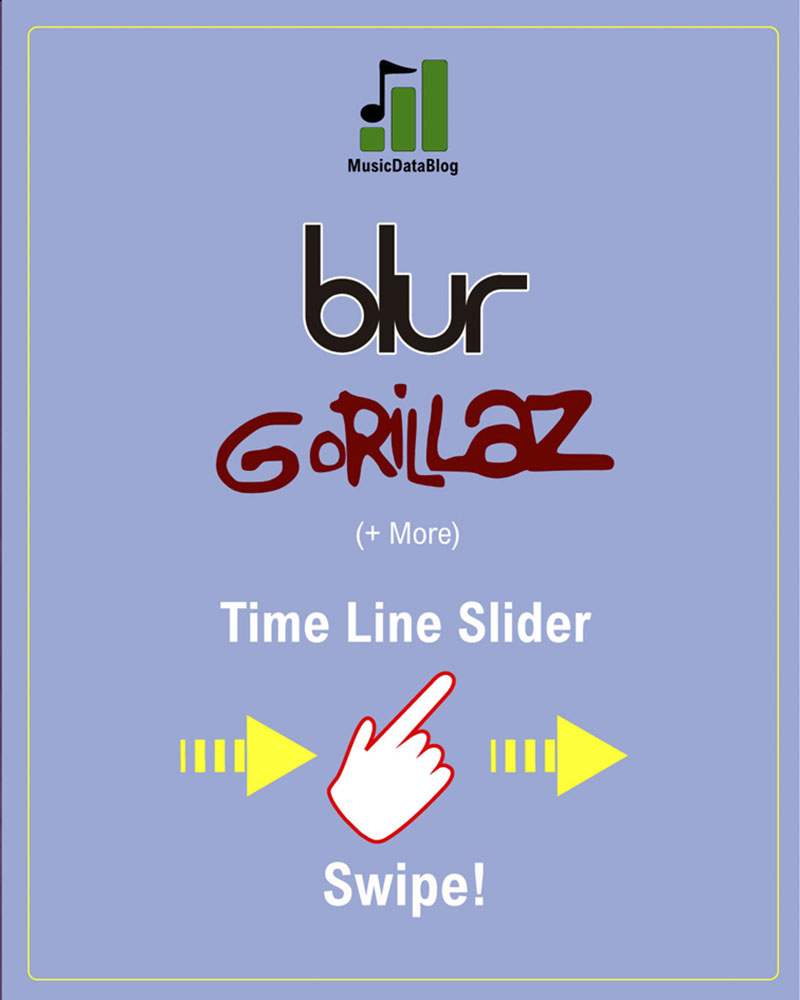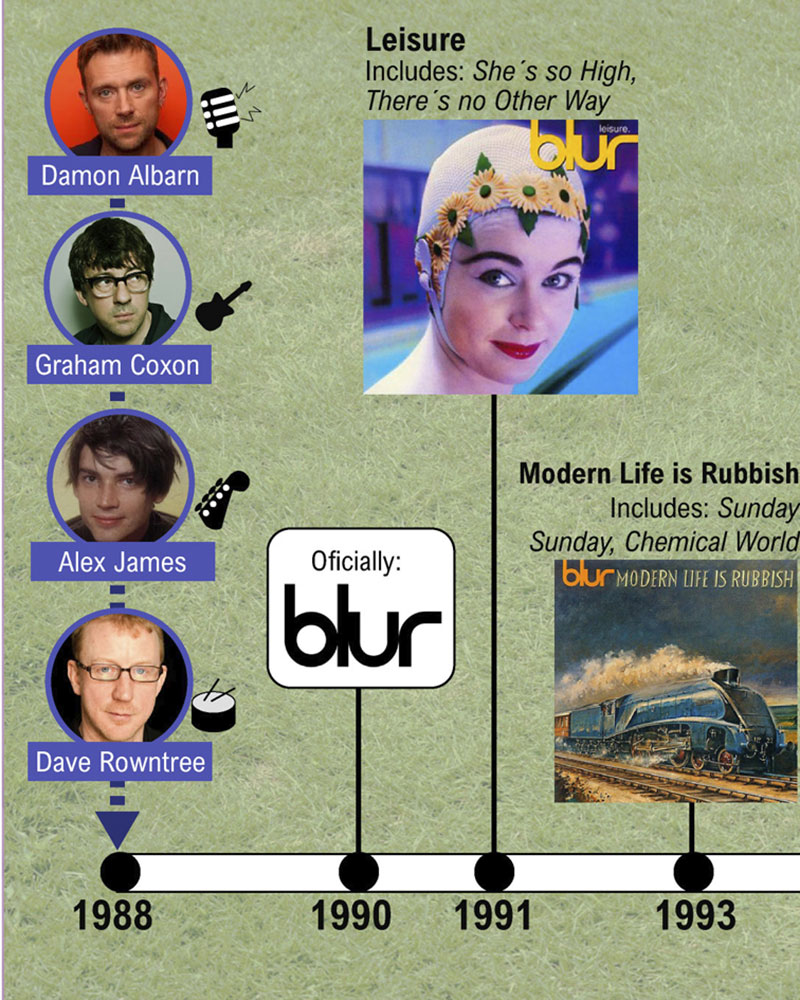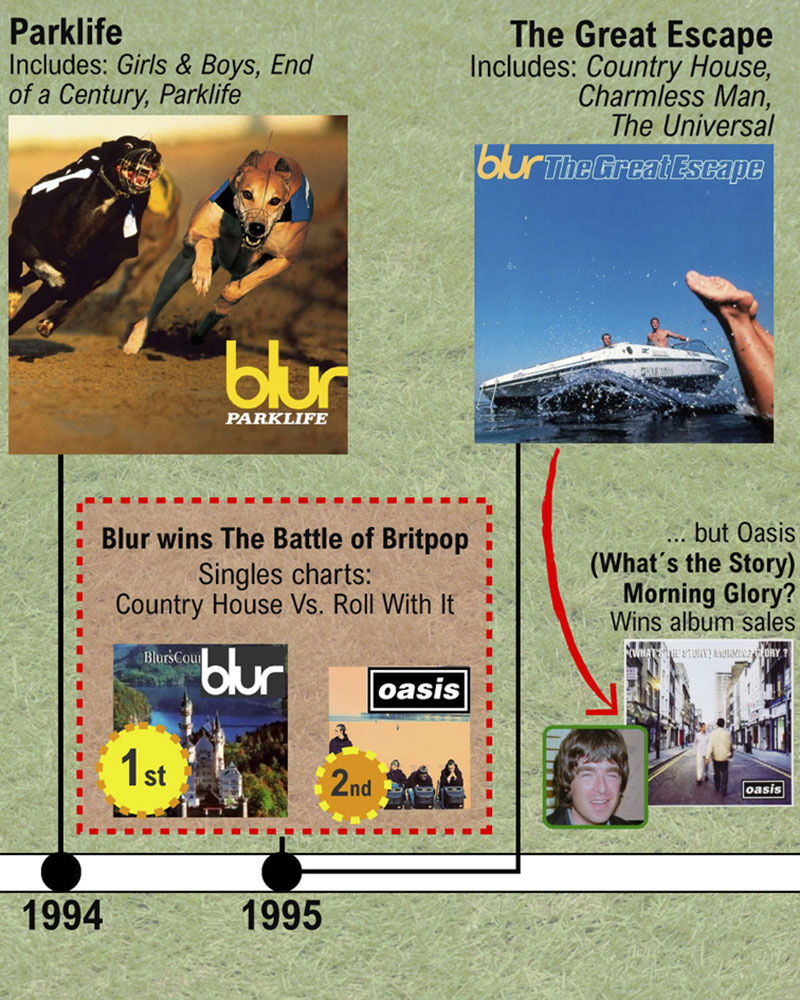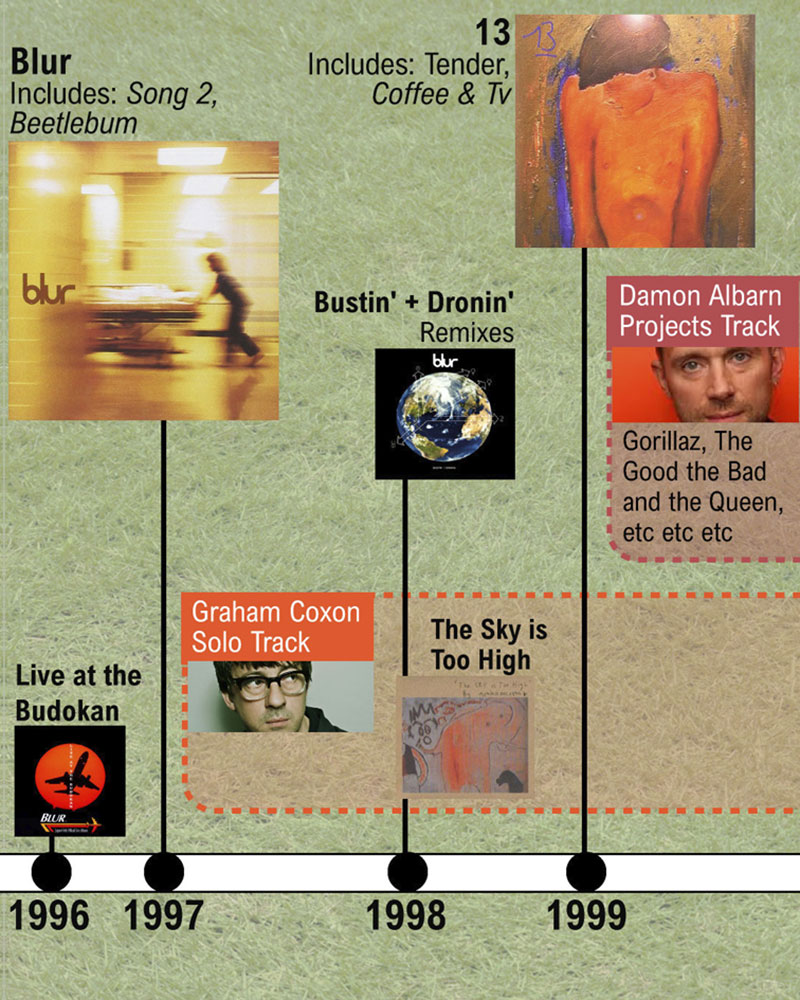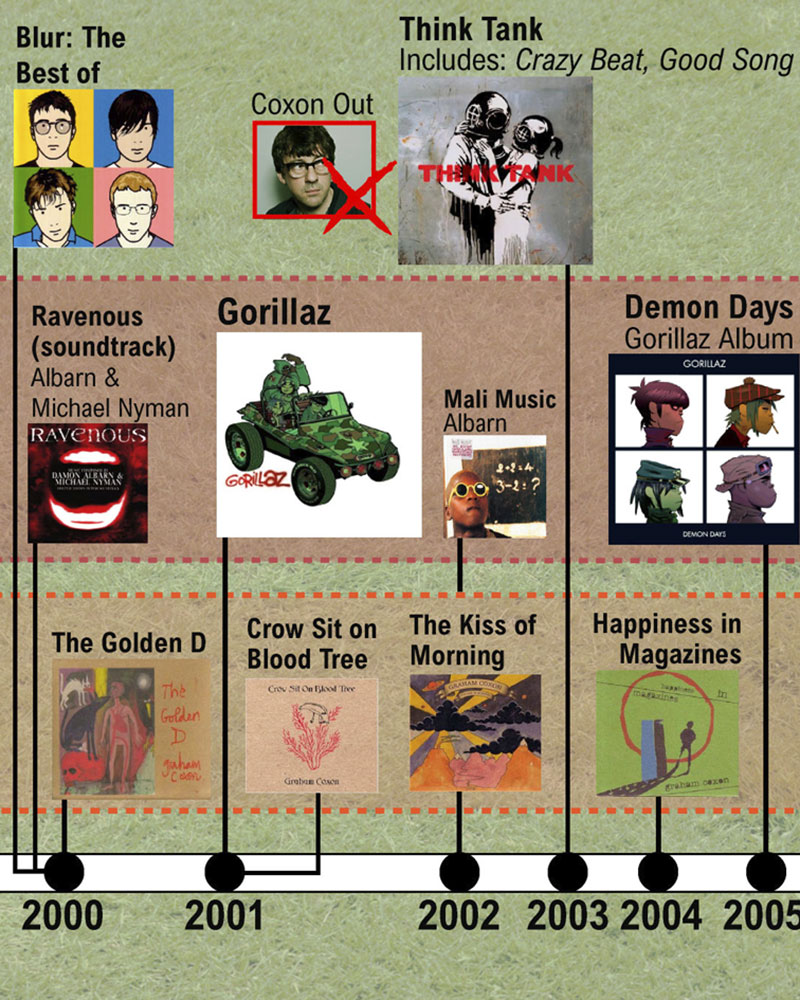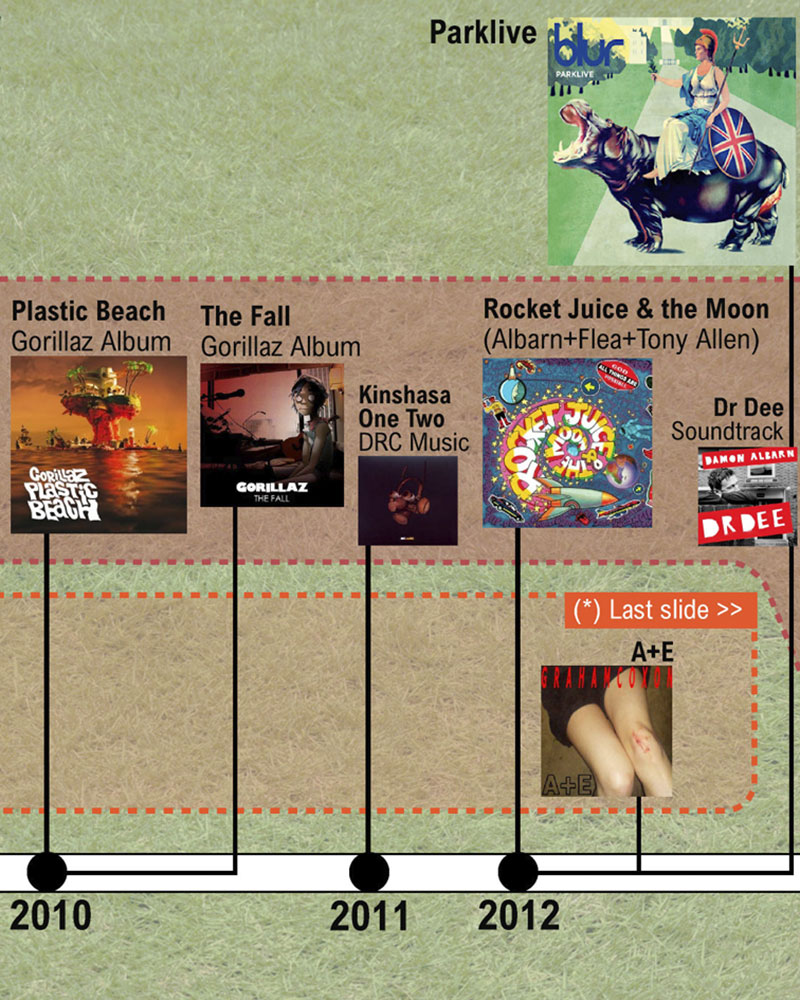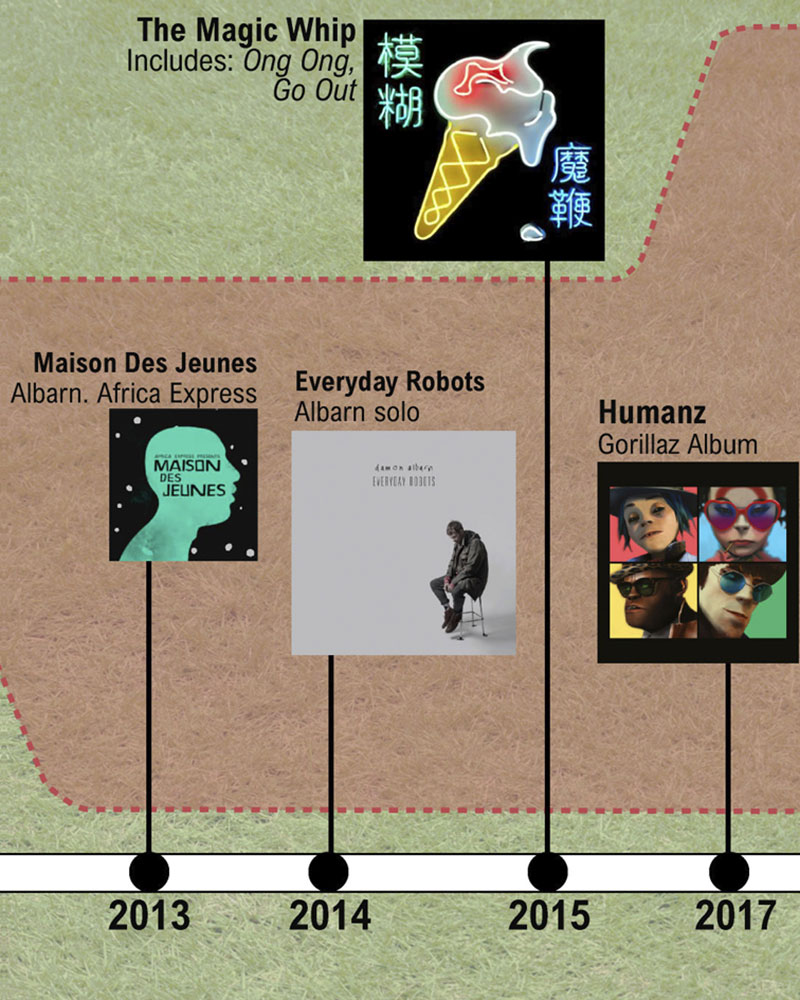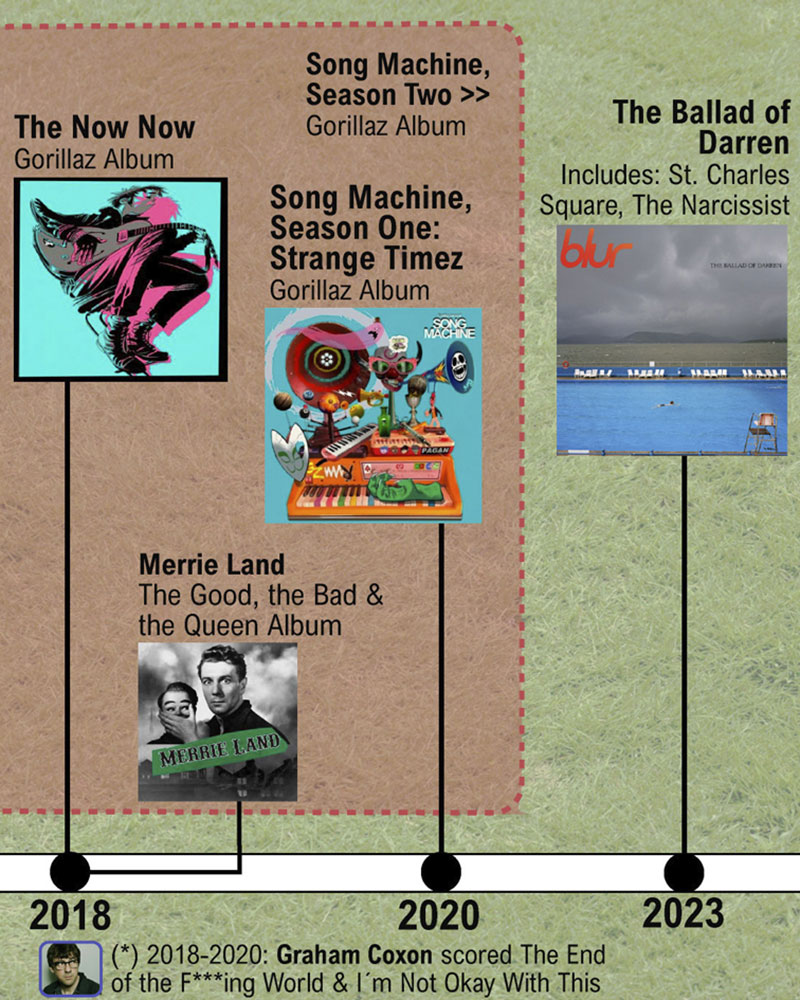 Recently, Blur announced their new album, The Ballad of Darren (2023).
A summarized version of Blur's history
Blur was formed in 1988 in London, England. Their line-up has been stable for the most part of their career, with only guitarist Graham Coxon leaving the band between 2002 and 2008. Blur's constant members are Damon Albarn on vocals, Dave Rowntree on drums, and Alex James on bass.
Blur's discography
Below we list all studio album releases by Blur, as well as two important events.
1991: Leisure is released
1993: Modern Life is Rubbish is released
1994: Parklife is released
1995: The Great Escape is released
Also, in 1995 the famous "Battle of Britpop" took place. Basically, it was Oasis' Roll with it against Country House on the charts. Blur came out victorious.
1997: Blur's self-titled album is released
1999: 13 is released
2001: Graham Coxon left Blur
2003: Think Tank is released
2006: Graham Coxon rejoined Blur and the band started performing live again
2015: The Magic Whip is released
2023: Blur releases The Ballad of Darren
Gorillaz history in short
Gorillaz began in 2001 as an alternative project of the singer Damon Albarn. The band also includes illustrator and cartoonist Jamie Hewlett. More recently, producer and percussionist Remi Kabaka Jr. also joined the band. Gorillaz often uses session musicians to complement vocals, drums, bass, and other instruments.
Something that makes Gorillaz stand out is the project's narrative is centered on a virtual band, consisting of four cartoon animated characters: 2-D (vocalist), Murdoc Niccals (bassist), Russel Hobbs (drummer) and Noodle (guitarist).
Throughout its existence, Gorillaz has released seven studio albums:
2001: Gorillaz
2005: Demon Days
2010: Plastic Beach
2011: The Fall
2017: Humanz
2018: The Now Now
2020: Song Machine Season 1: Strange Timez
Song Machine Season 2 is expected to come out in 2021.
Graham Coxon's solo discography
Graham Coxon left Blur during the recording of the album Think Tank. He returned to the band in 2015, when they recorded the album The Magic Whip.
Here is a list Graham Coxon's solo discography:
1998: The Sky Is Too High
2000: The Golden D
2001: Crow Sit on Blood Tree
2002: The Kiss of Morning
2004: Happiness in Magazines
2006: Love Travels at Illegal Speeds
2009: The Spinning Top
2012: A+E