The following chart shows all of Queen's albums ranked according to their popularity on the streaming music platform Spotify. As expected, the album featuring Bohemian Rapsody is their most popular album, while their first record is not so popular.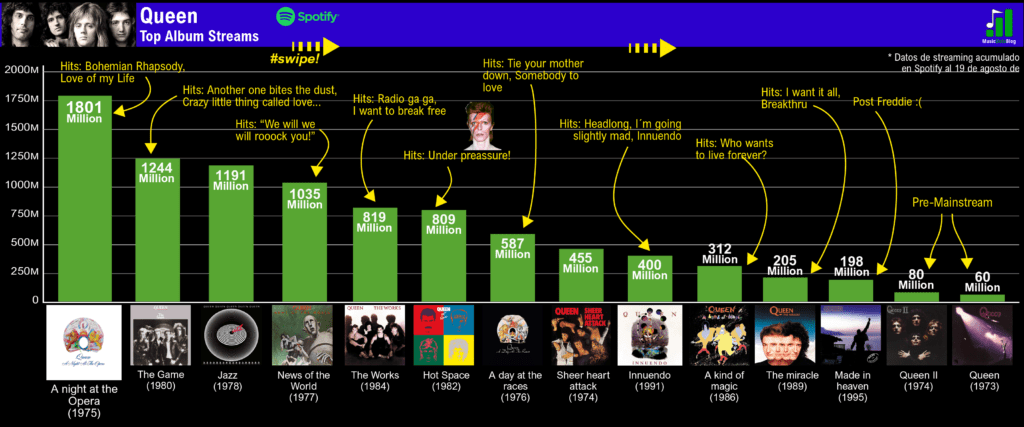 * Note: source data is from August 19, 2020
As expected, the most popular album from Queen is A Night at the Opera (1975), which contains their most popular song: Bohemian Rhapsody. Recently, the biopic about frontman Freddie Mercury took its title from this excellent track. But Queen is certainly more than its frontman lie has released several other hits throughout their entire career.
Which are Queen most popular albums?
A Night at the Opera (1975): it includes hit songs Somebody to Love and Bohemian Rhapsody. Other notable tracks are Dead on two legs and 1979.
The Game (1980): this one is in my personal top Queen albums, as it includes hits such as Another one bites the dust and Crazy Little Thing Called Love.
Jazz (1978): it was a surprise for me to find this album in this spot. The reason for it peaking so high is the classic Don´t stop me now, which is in fact and stand-out track.
The Works (1984): Another of my favorite Queen albums. It includes excellent tracks such as Radio Gaga and I want to break free.
Towards the right side of this infographic, we can find two albums that I personally appreciate a lot: Innuendo and also Made in Heaven, which was released after Freddy Mercury's death.
As their least popular albums, the chart shows the band's first albums: Queen and Queen II, which belong to their pre-mainstream era. It was with their third album, Sheer Heart Attack, that they obtained some significant attention from the public and the press. With their subsequent album, the previously mentioned A Night at the Opera, the band achieved massive success.
Two albums were not included in this chart. One of them is the soundtrack for the Flash Gordon movie. The other is an album that the remaining members of Queen, Roger Taylor, and Brian May, released with singer Paul Rodgers, I don't even consider it to be a Queen album.