In this chart, Queen´s albums ranked according to their popularity in Streams: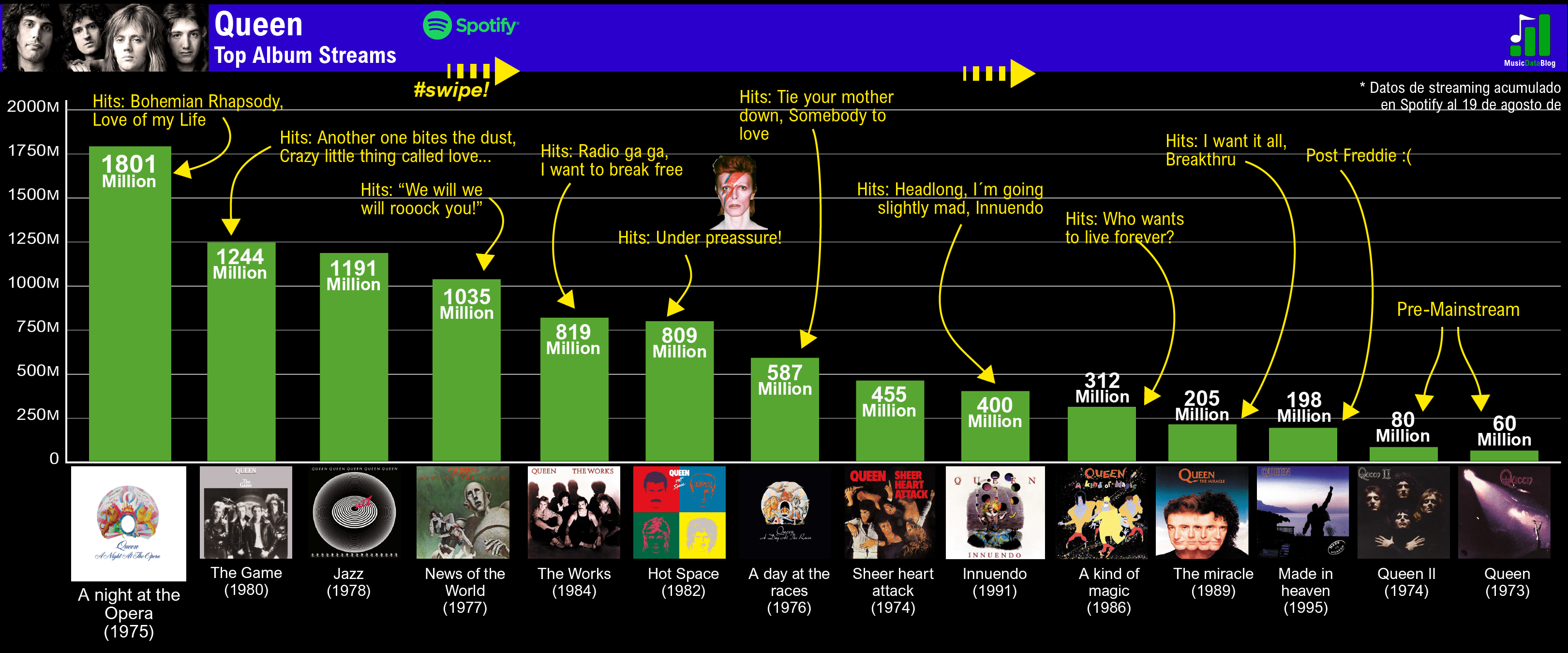 * Note: Data was gathered on August 19, 2020
This is the first infographic review on Spotify streams that I dedicate to a classic band. As is to be expected, the most popular of Queen is A Night at the Opera (1975), which contains perhaps their most emblematic song: Bohemian Rhapsody. Beyond the boom of the film, the life of the great Freddie Mercuri in collaboration with Brian May, John Deacon and Roger Taylor has left us a lot of successes.
Which are Queen most popular albums?
A Night at the Opera (1975): containing hits like Somebody to Love, Bohemian Rhapsody. There are stellar mentions for songs like Dead on two legs and 1979.
The Game (1980): this one is in my personal top 2, as it has hits like Another one bites the dust and Crazy Little Thing Called Love.
Jazz (1978): surprise for me, but the weight that the classic Don´t stop me now has is undeniable.
The Works (1984): My other top 2, with Radio Gaga and I want to break free as anthems.
At the end of this infographic we find albums that I appreciate a lot, such as Innuendo (there are days that I consider to be the best Queen album) and the posthumous Made in Heaven, which makes me nostalgic.
At the very least, there are the band's first two releases: Queen and Queen II, which belong to their pre-mainstream era. Already with Sheer Heart Attack they had obtained some public and press attention, but it was on the next album, the aforementioned A Night at the Opera, that they achieved stardom.
Not included in this chart were the soundtrack of the Flash Gordon movie and the album with Paul Rodgers, which, in my opinion, is not even a Queen album.
More related content: