Which is Led Zeppelin's best album? This chart shows all of this band's releases ranked according to their popularity on the Spotify audio streaming platform.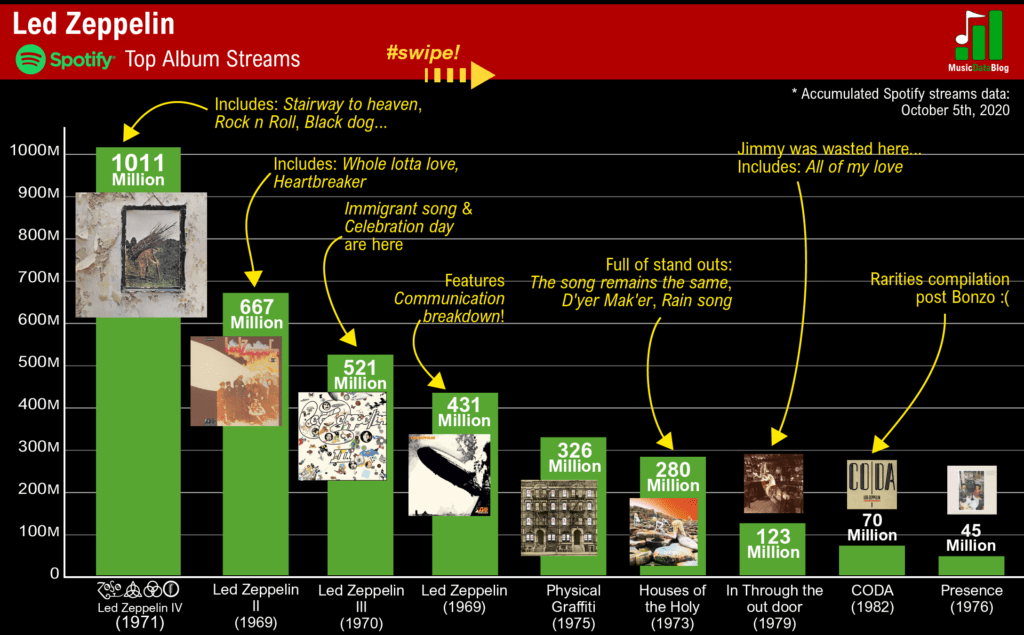 This chart contains streaming data taken on October 5th, 2020
Let's take a look at Led Zeppelin's discography on Spotify, to see how popular is their good old school rock nowadays. Here we can see how the classic hard rock band founded by Robert Plant (vocals), Jimmy Page (guitar), John Paul Jones (bass) and John Bonham (drums) is performing on the audio streaming era.
Which are Led Zeppelin's most popular records?
Considering all of Led Zeppelin's studio discography, the four self-titled records are the most popular ones. And actually, the "untitled" one, famously known as Led Zeppelin IV (1971) is their most streamed album today. As expected, Stairway to heaven is their most popular song (see the top 10 tracklist below). Also, their fourth album has some other real classics, like Black dog, Rock n roll and Misty mountain top.
We have to take into account that Immigrant song, from the Led Zeppelin III (1970) album is the second most-streamed song from Page, Plant, Bonzo and Jones. Their second LP, Led Zeppelin II from 1969, has the excellent track Whole lotta love, which holds a very notable third place in this streaming chart. Led Zeppelin's top tracks in streaming are listed right below:
Which are Led Zeppelin´s most popular songs?
Here are Led Zeppelin´s top 10 tracks according to Spotify:
Stairway to Heaven (Led Zeppelin IV) 477,100,153
Immigrant Song (Led Zeppelin III) 327,582,303
Whole Lotta Love (Led Zeppelin II ) 288,929,327
Ramble On (Led Zeppelin II ) 172,116,782
Black Dog (Led Zeppelin IV) 171,985,207
Good Times Bad Times (Led Zeppelin) 165,581,231
Kashmir (Physical Graffiti) 149,456,026
Rock and Roll (Led Zeppelin IV) 116,352,889
Going to California (Led Zeppelin IV) 102,894,871
Babe, I'm Gonna Leave You (Led Zeppelin) 82,238,972
Least popular albums from Led Zeppelin
Every artist's discography has its low points. While I was doing this chart I expected Physical Graffitti (1975) and Houses of the Holy (1973) to perform better in streaming services. These are really heavy-weight albums in rock history: the first of them includes tracks such as In my time of dying and the hard rock anthem Kashmir. The second mentioned album contains many notable tunes, such as The song remains the same, The rain song, No quarter and perhaps their poppiest track, D'yer Mak'er.
I included 1982's CODA in this chart, even though is not a proper studio album. But in fact, it is the last record that Led Zeppelin put out after the tragic death of their amazing drummer John Bonham. This album contains the drum solo entitled Bonzo´s Montreux. One surprise in this infographic was that the album Presence (1976), performed in the last place. I know this album is not usually considered Led Zeppelin's best work, but it certainly deserves more streams!