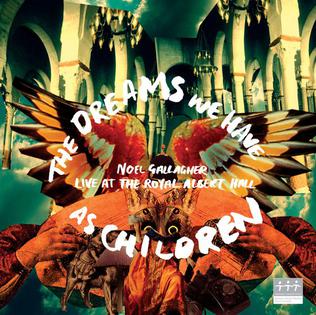 Este disco en vivo, The Dreams We Have As Children, es la primera aproximación de Noel Gallagher a cortarse en solitario. Es un concierto de 2007 y publicado digitalmente dos años después, acreditado no a Oasis sino a él solo. Podés ver la línea de tiempo de Oasis aquí.
Más allá de lo que ocurrió con Oasis, siempre fue llamativo como Noel Gallagher se cortaba por su cuenta ante los plantones de su hermano Liam: ya fuera en breves números en vivo, en su creciente labor como vocalista en las caras b o incluso prescindiendo de su hermano a la hora de presentarse en el MTV Unplugged.
The Dreams We Have As Children recopila una serie de númeritos en vivo grabados en el Royal Albert Hall el 27 de marzo de 2007, a beneficio de Teenage Cancer Trust. Con un sonido un tanto dudoso por momentos, este disco dispone de versiones excelentes de Fade away, (It´s good) To be free, Don´t go away, y obviamente, Don´t look back in anger.
Este disco contiene joyas como el cover de The Smiths, There is a light that never goes out y el clásico Beatle, All you need is love. Complementariamente, contiene una versión de Wonderwall muy cercana a la que grabó Ryan Adams, y la cual al momento de ser lanzada, el mismísmo Gallagher repudió.
Vale aclarar que si bien la aparición fue en formato solitario, lo acompañó el entonces guitarrista de Oasis, Gem Archer, quien desde 2017 milita en la formación en vivo de Noel Gallagher´s High Flying Birds. También el guitarrista de The Jam y colaborador habitual de la banda, Paul Weller, participó.
Tracklist original:
(It's Good) To Be Free
Talk Tonight
Fade Away
Cast No Shadow
Half the World Away
The Importance of Being Idle
The Butterfly Collector
All You Need Is Love
Don't Go Away
Listen Up
Sad Song
Wonderwall
Slide Away
There Is a Light That Never Goes Out
Don't Look Back in Anger
Married With Children
¿Algo más de Britpop? Aquí el enlace para ver el documental Live Forever: The Rise and Fall of Britpop.
También revisamos en esta infografía las influencias de Oasis.